Fiesta Mexicana is so much a part of the Topeka summer experience that it is hard to keep in mind the event is simply a church fundraiser. Of course, there is nothing simple about it. A better way to describe "Fiesta" is a celebration of culture and community that one neighborhood shares with us all.[[endteaser]]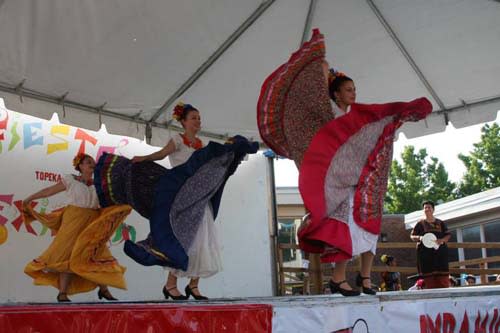 Thousands of people come every year to the streets surrounding the Our Lady of Guadalupe parish to enjoy dozens of street vendors, several stages of free entertainment, activities for the kids, a HUGE carnival and, of course, the FOOD. Fiesta just wouldn't be a fiesta without the food: tacos, enchiladas, burritos, tamales, rice and beans. Sales start months in advance and in mid-July, after the event winds down, many Topekans have a time of culinary mourning as their palate loses a bit of its spice for a few months.
My kids love Fiesta. They enjoy browsing through the trinkets, riding a few rides and tapping their feet to the mariachi music. I love people watching, free entertainment and a good excuse to eat Mexican food - as if I ever really needed that!
To celebrate the 80th anniversary of the event, this year organizers invited all of the past Fiesta queens to attend. The honor of being queen, which is won by a family fundraising effort of food sales over several months, went this year to Chelsea Newman. She and the other members of the Fiesta Court of Royalty raised nearly $120,000 to support their church school.
1.    Best Fiesta food: The tostada. "They fill you up pretty quickly. Those are the top things sold when I was in the kitchen."
2.    Best Fiesta midway ride: The ferris wheel. "You get really high, and you get to see everything."
3.    Best performance: While Chelsea actually spent much of her time performing with her own dance group and mariachis, she did catch some of the professionals. Her favorite was Los Hombres, from San Antonio.
4.    Best Fiesta event: Hard to choose, there are just so many great events. "There's not really one. The whole thing is just amazing, how big it gets and how much fun it is."
5.     Best part about being queen: "The best part about it was all the little kids coming up to me and asking me about it. It's pretty cool." This year 45 past queens came back to celebrate the 80th anniversary of the event. The very first queen was not able to attend, but she is still living and has attended the event in recent years.
6.    Best lesson of Fiesta: For a Fiesta queen the best lesson is how to handle hard work. "Going through all the hard work showed me that what I have to do to get by in high school is easy stuff."  
What is your favorite part of or best memory from Fiesta Mexicana? 
Photos courtesy of Fiesta Mexicana of Topeka. 

Karen Ridder is a freelance writer living in Topeka. A former News Producer for KSNW-TV in Wichita, her work can also been seen in print publications including: Topeka Magazine, TK Magazine and the Topeka Capital-Journal. She has written for several national blogs and was recently recognized as one of the 2011 winners in the Annual Kansas Factual Story Contest. Karen has lived in Kansas for 15 years and married a native Wichitan. Together they are raising three little sunflower boys and a dog named George.