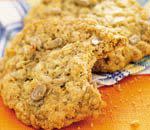 To give you a taste of the fruits, vegetables, grains, meats and more Kansas is famous for – as well as the yummy dishes prepared with those wholesome ingredients – we'll share a Kansas-based recipe here once a month.For example, the recipe below reflects all that is tasty about our "Sunflower State." Did you know that the city of Goodland is the "Sunflower Capital of the World"? Take a drive along I-70 in western Kansas in late August and you'll see why.We invite you to bake up a batch of these Sunflower Cookies, then tell us what you think. Or send us your favorite recipes. We're cooking in Kansas!

[[endteaser]]

 

2 1/2 cups all-purpose flour (unsifted)
1 teaspoon baking soda
1/2 teaspoon baking powder
1/4 teaspoon salt
1 cup sunflower-oil margarine or butter, softened
1 cup granulated sugar
1 cup packed brown sugar
2 large eggs1 teaspoon vanilla
2 1/4 cups quick-cooking rolled oats
1 cup sweetened shredded coconut
1 cup shelled sunflower seeds

1. In a small bowl, stir together flour, baking soda, baking powder and salt. Set aside.

2. In a large mixing bowl, beat margarine or butter with an electric mixer on medium to high speed for 30 to 40 seconds. Add the granulated and brown sugars; beat mixture until combined. Add eggs and vanilla; beat mixture until well combined.

3. Using the mixer, beat in as much of the flour mixture as you can. Stir in any remaining flour mixture with a wooden spoon. Stir in the oats coconut and sunflower seeds just until combined. Cover and chill for at least 1 hour.

4. Remove dough from the refrigerator. Drop dough by slightly rounded tablespoons 3 inches apart on an ungreased cookie sheet. Bake cookies in a 350° oven for 8 to 10 minutes or until lightly browned. Let cool on cookie sheet for 1 minute. Transfer cookies to a wire rack to cool.

Makes about 48 cookies.