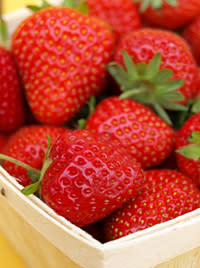 This month's recipe comes the Hays House 1857 Restaurant & Tavern in Council Grove, in the east-central part of the state. The oldest continuously operating restaurant west of the Mississippi River, Hays House served such early patrons as Gen. George Armstrong Custer and Jesse James.
Try this scrumptious strawberry pie recipe – and see for yourself why Hays House is a winner in the "8 Wonders of Kansas Cuisine" contest. Then make plans to visit this historic restaurant for breakfast, lunch or dinner.
1 cup sugar
3 tablespoons cornstarch
6 tablespoons dry strawberry gelatin
1 cup water
10 cups fresh strawberries, cut
1 pie crust, baked and cooled
1 cup heavy cream
1 tablespoon powdered sugar
Combine sugar, cornstarch and gelatin. In saucepan over medium heat mix gelatin mixture with water and boil for three minutes or until mixture is clear. Cool until there is no heat remaining and mixture begins to set. Mix gelatin with strawberries. Pile into cooled piecrust and refrigerate at least 1 hour. Whip cream with powdered sugar until topping is stiff. Top pie just before serving.