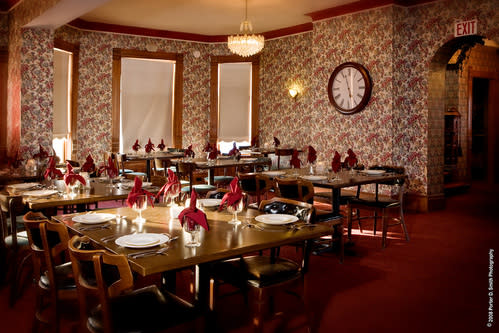 Photo credit: Holton House Bed & Breakfast

Visitors often stay for the Victorian décor, plush bedding and spacious bathrooms at the Holton House Bed & Breakfast in Holton, but they usually come for the restaurant and fried chicken dinners served family style. "You don't have to be an overnight guest to enjoy our meals," say owners Shaun and Tara Sheegan in our interview, "just come hungry." [[endteaser]]

1) Tell us the history of Holton House Bed & Breakfast.

Holton House is a 4,000-square-foot Victorian mansion built in 1888 and restored to its original Victorian splendor. After its first use as a residence, the house served as a funeral home from about 1930 to 1960. We purchased the property in 2005 and established our catering and restaurant service, along with the bed and breakfast. We're the only bed and breakfast in Kansas with a full-service restaurant and bar that are open to the public.

2) What is your restaurant's signature item?

It's all about the chicken. We serve dinner family style Friday and Saturday evenings and Sunday lunch. Weekdays, we serve an all-you-can-eat lunch buffet that features a salad bar, hot side dishes and, of course, the fried chicken. One customer writes, "It is my personal opinion that Holton House has raised the art of chicken frying to a new and much higher level."  We thrive on high praise like that and invite you to come judge for yourself.

3) What's your restaurant's philosophy?

We wanted to do justice to such a beautiful home, so high quality was a must in all our planning. We know people recognize made-from-scratch quality, which contrasts so markedly with the frozen, instant and pre-made items used in the big, chain restaurants. So, we cook up from scratch recipes Tara carefully chooses. Take great dishes, freshly and painstakingly prepared, and serve them in a Victorian setting – and you have a dining experience worth a drive.

4) Has your restaurant received any special awards or honors?

We've been named one of the Top 10 Inns in Kansas for five years running and one of the "Top 15 Reasons to Love Kansas" in KANSAS! Magazine.

5) What makes your restaurant unique?

We're serious about serving dinner family style. So, there's no menu. Guests simply sit down and we start serving them fine food. Mashed potatoes, gravy and creamed corn come in serving bowls set on the table. The fried chicken is served on a platter. There are also hot rolls with honey butter, coleslaw and a relish tray. We finish with double chocolate cake for dessert. Some guests rave about our unique coleslaw recipe, others our mashed potatoes. But they all come back for the chicken.

Learn more about Holton House on facebook.