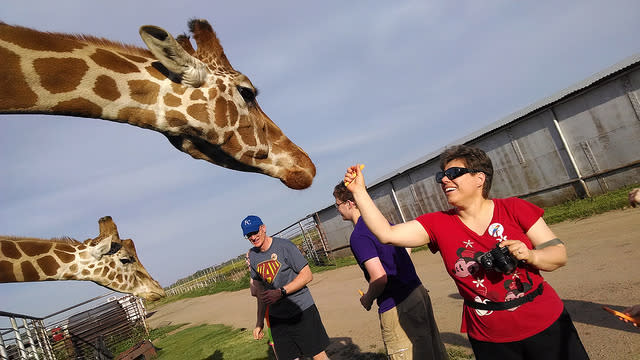 I have a six-year-old and an eight-year-old, and they are ever-enthusiastic Kansas Roadies. They pack their own bags, read their own maps. They can live for days on PB&J sandwiches from a cooler – and they can tell you more about Kansas geography, history and culture than most. However, we're not so far removed from screaming car seat journeys that I can't recall the urgency with which we sang "The Wheels of the Bus" for the fortieth time. Traveling with kids brings its own special brand of joy and wonderment, but it can be challenging. With a little extra consideration, you can fine-tune your family adventure to meet the interests of your own young ones. The southern region of Kansas' Central Prairie is the perfect place to begin your own family adventure, offering opportunities for varying interests and ages with kid-friendly accommodations and fun food options. [[endteaser]]

My oldest son is a science guy who wants hands-on things he can figure out. My youngest likes imaginative play - he likes to dress up and pretend. Sometimes it's tricky to find a place that suits both siblings. Exploration Place, the Sedgwick County Science and Discovery Center, understands. The exhibits and demonstrations meet kids at their interest and age levels. In the medieval village accurately titled, "Where Kids Rule," Lucas grabbed a cape and fought dragons from the drawbridge of an incredible three-story castle. He launched balls with the catapult, visited a blacksmith shoppe and kept his brother securely locked in the gallows.  I followed him through the castle's corridors, winding through the medieval kitchen, the alchemy lab, and Galileo's star gazing gallery. Needing a little break, he donned a crown and a bit of royal bling, and plopped down on his throne to admire his kingdom. 
Meanwhile, Charlie was investigating how rivers change course with shifting silt, currents and dams. I counted ten kids working together around the exhibit that included a large tilted table and running water. There was lots of discussion. And minimal splashing. 
While botanical gardens may not be the first place you'd think of spending an afternoon on a kid trip, Botanica, Wichita, has a creative children's garden that keeps kids moving and thinking. Charlie's idea of a "good time" involves a water source, sand, tools, and a little space to himself - and Botanica delivers. Lucas is forever making hideaways and hide-outs, dragging stuff into nooks and crannies, and it's no wonder he was immediately lost to the towering tree house. Woodland tunes from nature-inspired instruments wafted softly through the breeze, and I found their shoes abandoned in a shrubbery along the path. 
Together, we identified and tended the vegetables at the farmhouse, and then set off for the butterfly house. Although this wasn't an especially large butterfly house, a patient, well-informed docent met us at the door and pointed out some of the residents' identifying characteristics. Charlie and Lucas made some connections between the insects that populate our own garden and those fluttering past. They nabbed my camera and "captured" their new discoveries for later comparison. 
After working up an appetite, it's only fitting to head to Nifty Nut House for an afternoon treat. Established in Wichita in 1937, this "warehouse of snacks" has every sort of deliciousness you can imagine. From roasted nuts to chocolate-covered coffee beans, gummi bears and licorice sticks – this place will satisfy your every sweet tooth and remind you of childhood. I shared paraffin soda bottles filled with syrup. Lucas picked one of every flavor of jellybean. 
We got to know the kangaroo and the giraffe at Hedrick's Exotic Animal Farm and Bed and Breakfast in Nickerson. A short drive from Wichita, Hedrick's one-of-a-kind destination includes a delicious breakfast and a camel ride. Our friendly hostess introduced us to the animals when we checked in, gracefully and patiently answering every question posed by our small but inquisitive group. After evening refreshments, we retired to our tastefully appointed "camel suite" for a movie, and prepared for our morning tour of the grounds. Too excited to sleep, Charlie and Lucas were up early, hopping around with the kangaroos, feeding them carrots and patting their noses. We were amazed by the joeys jumping back into their momma's pouches (Surely they were too big?), and we helped bottle-feed the llama. The staff was clearly dedicated to their menagerie, and we were charmed. At one point, I may have promised my kids a pygmy goat. 


No matter the ages or interests of your junior roadies, the yellow brick road trip is the perfect place to experience new things and enjoy time together. And this is just a glimpse into all the adventures this itinerary offers. Don't miss reading about other Yellow Brick Road Trip adventures at TravelKS.com.

Jessica is a teacher, librarian and mom who lives in Holton. She loves all things summertime: Gardening, lazy days at the lake, farmers' markets, and family vacations. Some of her favorite Kansas places include the Art Lab at Washburn University, the Topeka Shawnee County Public Library, the Konza Prairie and Main Street in Newton.