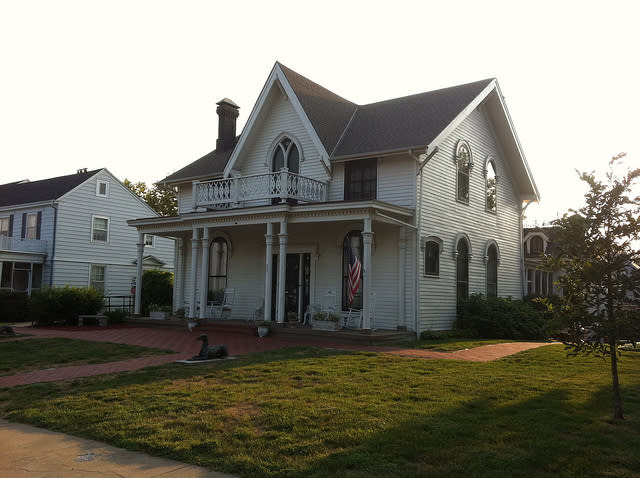 'Haunted' Atchison

My husband and I launched our relaxing Labor Day weekend with a visit to Atchison. Jacque Pregont, president of the Atchison Area Chamber of Commerce greeted us at the Atchison Visitor Information Center in the historic Santa Fe Depot. The Visitor's Center is a great place to start your tour of Atchison, because the gift store offers an array of fun gift items as well as books and guides on what Atchison residents proudly call the "Most Haunted Town in Kansas." If you ask, the locals will share endless stories of ghostly encounters about the town. And from now through Halloween, trolley tours will take visitors on hosted adventures throughout the town's Victorian homes and cemeteries.
We were eager to check in at the Tuck U Inn Bed and Breakfast located in the historic Glick Mansion. This incredible home set high on a hill was built by George Glick, who was elected governor of Kansas in 1882, and features lovely period antiques, large porches, sunrooms for relaxation and stately bedrooms.We particularly enjoyed visiting with innkeepers Loman and Chris Wildy, who told us great stories about Atchison and pointed out several areas of interest. We felt right at home and had a delightful breakfast the next morning with another couple we met during our stay. I'm not sure if it was the nice company, the beautiful setting or the fresh food, but my husband and I easily agreed that our delicious morning meal was one of the top five breakfasts we've ever had! Other great Atchison experiences included an evening meal at the River House Restaurant overlooking the river and hearing fun ghost stories of the building's past as a brothel. Take time after leaving the restaurant to walk across the street for a view of the river and the Lewis and Clark Pavilion and the Veteran's Memorial Plaza.
We also enjoyed Snow Ball Ice Cream & Candy Shoppe, an old-fashioned ice cream store with cute gifts, including a sock monkey that we bought for our 7-year-old son. Speaking of shopping, Nell Hill's is really an amazing store with national fame. If you love decorating, HGTV and the holidays, this store is a must-stop on your shopping trip in Northeast Kansas. Take plenty of time to browse the shop – it's rich with surprises and surrounded by many other stores along a walking pavilion on Commercial Street. 


Historic Leavenworth 

Next, we cruised down the beautiful Glacial Hills Scenic Byway to Leavenworth. We enjoyed seeing the Buffalo Soldier Monument at Fort Leavenworth, the oldest continuously operating fort this side of the Mississippi River and an area rich with history. Last year, the Buffalo Soldiers were named one of the 8 Wonders of Kansas People. Perched in a beautiful park, the monument commemorates the 9th and 10th Calvary Regiments comprised of black soldiers who fought bravely during the Indian Wars. Cheyenne warriors named them "Buffalo Soldiers" as a tribute to their courage.
We completed our tour of Leavenworth with lunch at the Corner Pharmacy. We sat at the counter and watched the cooks grill up our hamburgers and onion rings, and had a super time joking with the friendly staff. Leavenworth CVB Director Connie Hachenberg stopped by to tell us about all the additional shopping and eating establishments in Leavenworth – and it quickly became clear that we need another day to just shop in Leavenworth.
A weekend of wonders
My husband and I found Atchison and Leavenworth to be filled with beautiful architecture, rich history, eclectic shops and friendly faces. And, with a gorgeous byway connecting the towns, visiting both towns makes for a great weekend getaway in Kansas!
Chelle Decker works for jones huyett Partners in Topeka. As an Account Manager she works with the Kansas Travel and Tourism Divison to promote travel in the state of Kansas. She is a native of Olathe, Kansas, lived in Emporia for three years, and now calls Topeka her home. In her free time, Chelle, her husband, and seven-year-old son enjoy taking weekend trips across the state.