As you travel through Kansas, you will find many ways to learn more about the 1890s, but it was the 1980s we were delighted to explore on a recent trip to Exploration Place in Wichita. It was a temporary exhibit, set up to explain the technology behind, and development of, video games that captured our attention. [[endteaser]]
My husband spent many years repairing similar kinds of arcade games, and he had fun showing the kids the science behind the machines. I had the startling realization that although a trip to Chuck E. Cheese still provides the arcade experience, it's these old classics that bring back the era of my childhood-one that seems to be getting increasingly further away. As we walked through the hall, it was filled with dozens of classics like Mrs. Pacman and Space Invaders from the time when Sega and Atari were king. I looked around and saw moms and dads, like us, being kids again and obviously having a good time showing their children old favorites.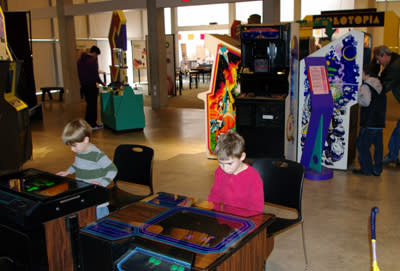 The exhibit is a great example of what makes Exploration Place a really unique kind of science and discovery center. It is not a children's museum, although there is much for kids to enjoy here. It is a place designed to really invite visitors of all ages to explore the science behind its exhibits. While my experience is that many kid-friendly museums do not actually appeal to adults, this one is an exception. Exploration Place seems to have found a balance. This balance makes it a really fun place to spend a few hours as a family. You can easily spend half a day here. We stayed longer than we planned.
When you go, here are some things you will find on permanent display:
· In a nod to Wichita's aviation heritage, a large exhibit in the museum is dedicated to the development of flight. The hall, which is approximately the length of the Wright Brother's first flight (denoted by markings on the floor), can be approached on a variety of levels. My kids enjoyed turning fly-wheels, simulating a glider flight, and getting in the cockpit of a small plance, but the science behind the phenomenon is also explained and can be explored by the more high-minded.
· Another large section explores natural Kansas, including agriculture and weather. There is a cool tornado simulator the kids loved, but, I have to admit, I also could not resist. I mean, all these years in Kansas. I had to find out what a tornado might actually feel like.
· The whole family also enjoyed the miniature Kansas exhibit, which displays favorite landmarks across the state in an idyllic 1950's setting. Not, ACTUALLY, what Kansas looked like then, but very fun to explore. My kids enjoyed looking for all the places we had been in the state-which if you have read this blog for any extended period of time-you may realize is quite extensive.
· A kid-friendly castle includes all sorts of information on the science of castles. Included here are dress-up clothes, a fishing area, a catapult launch, alchemy, stained glass, dungeon area and of course a public stock dubbed the "Medieval Time Out." We were lucky enough to be there on a Sunday afternoon to also experience Japanese sword fighting courtesy of the Society for Creative Anachronism.
Exploration Place is part of what I think makes Wichita a great weekend destination for families with kids of all ages. The science center is right next door to the Keeper of the Plains bridge and display at the Mid America All-Indian Center. It is free and definitely worth a stop while you are there. The Wichita Art Museum, Old Cowtown Museum and Botanica, are also nearby. Each I would place high on the list of nice places to enjoy while you are in Kansas. So, there is more than enough to explore if you take a few days and put Wichita on your list of places to visit.
Unfortunately, the video-game exhibit at Exploration Place was temporary, but coming up for winter, spring and summer of 2013 are: an animation exhibit and an animatronic dinosaur exhibit that promise to deliver the same kind of multi-generational appeal. The museum also has a dome theater and planetarium as well as MANY ongoing special programs.
If you go, I'm sure you will find something interesting to explore.

Karen Ridder is a freelance writer living in Topeka. A former News Producer for KSNW-TV in Wichita, her work can also been seen in print publications including: Topeka Magazine, TK Magazine and the Topeka Capital-Journal. She has written for several national blogs and was recently recognized as one of the 2011 winners in the Annual Kansas Factual Story Contest. Karen has lived in Kansas for 15 years and married a native Wichitan. Together they are raising three little sunflower boys and a dog named George.