With the arrival of spring in Kansas, the glow of a great tradition across the state rolls into our lives again: The Drive-In Movie. [[endteaser]]
There is nothing quite like the experience of watching the big screen under a big sky. When I lived in Wichita, one of my favorite weekend outings with friends was a trip to the Starlite Drive-In. Back then, we were all single and had the fortitude to stay up late for triple features. Part of the draw was the low "car load" price that could be had on special occasions. Even if you didn't like one of the movies, or had already seen it, the drive-in was a great deal.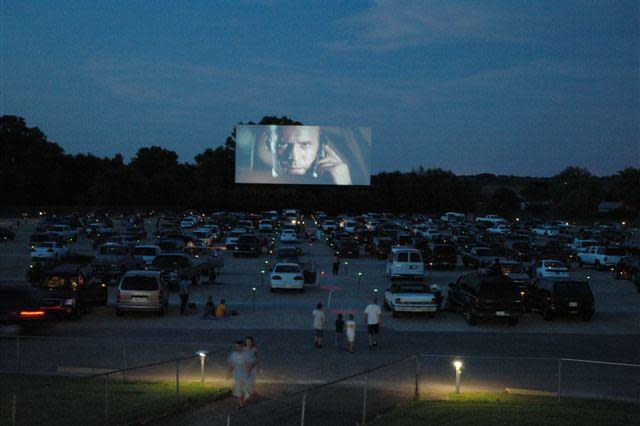 We would bring our lawn chairs, grab a snack or hamburger dinner from the concession stand and enjoy the movie-going experience in a unique way. We had a great time - having fun with the good company as much as whatever showed up on the big-screen. I have a vivid memory of one pair of friends sitting atop someone's SUV during the show, to get some distance from the group, during the early stages of their budding romance. They are now married with two kids. I'm not exactly saying you can thank the drive-in for that, but you just never know.
I have often be-moaned the fact that we moved away from Wichita's Starlite Drive-In to a town that lost its outdoor movie screen to "progress" many moons ago. That low "carload" price of just $12 in the early spring would be a wonderful way for our family of five could to actually get to the movies on a regular basis. No babysitter needed. Just watch the early show together, let the kids put on their jammies and lay down on their sleeping bags or air mattresses under the stars while drifting off sleep as the second or third feature gets started. Man, that's the life.
Luckily, the Starlite Drive-In and several others across the state have devoted fans who do just that -make it a family affair and keep the tradition alive. If you are looking for a Drive-In theater near you, here are some of the spots in Kansas you can go. Most open in March and April for the season:
Boulevard Drive-In, Kansas City - 913-262-0392
Kanopolis Drive-In, Kanopolis - 785-472-4786
Midway Drive-In, Osawatomie - 913-755-2325
Pageant Drive-In, Medicine Lodge - 620-886-5358
South Drive-In - 620-225-4301
Star Vu Drive-In, El Dorado - 316-322-0045 
If you don't have a regular drive-in near you, don't despair. You can still keep an eye out for the outdoor movie experience this season. A lot of communities have these kinds of events. In Topeka, we have been to them at several places including the Kansas History Museum, the Statehouse and Lake Shawnee. We even got a projector last year and showed ET: The Extra Terrestrial to the neighbors on a sheet hanging over our back deck. The kids absolutely loved it.
In Kansas, we are blessed with wide open skies. So, enjoy them. As you are making plans for activities with the family this warm-weather season, I recommend finding one where you can combine the natural beauty of the open sky on a nice night with the projected beauty of your favorite film. 
It can turn a familiar activity into a family memory. 
Photo courtesy of Starlite Drive-In Website.

Karen Ridder is a freelance writer living in Topeka. A former News Producer for KSNW-TV in Wichita, her work can also be seen in print publications including: Topeka Magazine, TK Magazine and the Topeka Capital-Journal. She has written for several national blogs and was recently recognized as one of the 2011 winners in the Annual Kansas Factual Story Contest. Karen has lived in Kansas for 15 years and married a native Wichitan. Together they are raising three little sunflower boys and a dog named George.