I would compare visiting the El Quartelejo Museum in Scott City to time-traveling through Western Kansas. When we arrived at the museum, a replica of a pueblo style building, we were given a brief introduction of the exhibits from Dennie Siegrist, the facility manager. He started us off with the western interior seaway, which occupied this part of the country 100 million years ago. We passed through the Monument Rock display, showing the chalk pyramids attraction which is located just down the road from Scott City. [[endteaser]]
We saw a mosasaur's lower jaw.... and what is a mosasaur you ask? This creepy sea creature which was also painted on the wall, was a marine reptile that could measure up to 50 feet. Among the many other fossils, I was particularly fascinated by the mammoth bones and North American camel teeth (yes camels!). However, one of the museum's pride and joys has to be the area's 80 million year old fish fossil, still lodged in the original chalk rock. It is quite large and nearly the length of my husband's outstretched arms.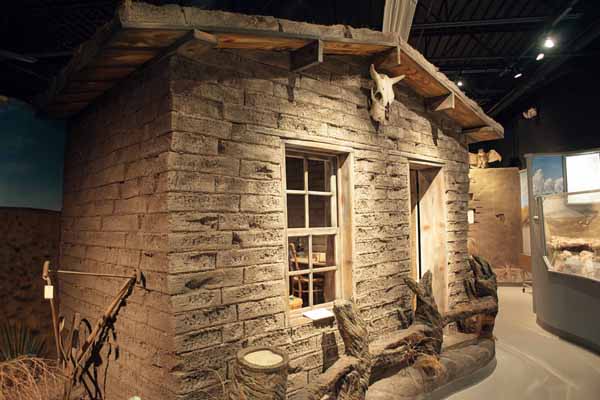 Turning the corner, we were drawn into the age of the Native Americans. Among the displays were replicas of the Pueblo dwelling that once resided nearby at Scott Lake and Battle Canyon, the location that hosted the last encounter between Native Americans and US troops in the late 1800s.
We continued our travels through the ages, encountering "The Soddy", a Blacksmith shop and my favorites, the X-ray shoe machine and the collection of barbed wire. This museum is rich in western Kansas history and we learned so much during the short time we spent there. I never knew about the problems with jack rabbits and the great jack rabbit drive of the 1930s or the need for soap stone foot warmers. I hadn't pondered the idea of how children arrived at school during snow and before motor vehicles, nor did I consider there were more than one type of barbed wire fencing. Once again, I walked away from a museum that was previously out of my radar, thinking, "that was a great experience."
I should also mention that the museum houses an art gallery and collection of Jerry Thomas's work and some military memorabilia which is also worth visiting while you are at the El Quartelejo. All exhibits are free to the public and donations are welcome.

Jenni Harrison is a Topeka native and graduate of Washburn University who owns her own business. She stays busy as a leader for a Girl Scout Troop, Cub Scout Den and the never ending duties of being a mom. Besides her high school sweetheart whom she married many years ago and their three children, her other loves include two parrots and the three dogs who surround her at all times while she is working from home.