Eight great reasons to start birding in Kansas
Birdwatching, also known as birding, has been enjoyed by Americans for hundreds of years. Currently there are about 55 million Americans who enjoy birding. Some of the best birding in the nation is right here in Kansas. In fact, people from as far away as Germany, France and Great Britain will come to Kansas this spring to make some their birding dreams come true!
We hope you'll get out and try some birding on your own. Here are a few of the many benefits of getting into birding in Kansas.
Birding gets families together outside
These days parents are constantly looking for ways to get themselves and their children outdoors to enjoy some fresh air and get away from indoor distractions. People of all ages can enjoy birding. Families can begin their birding adventures as close as their own backyard, or at the nearest city park.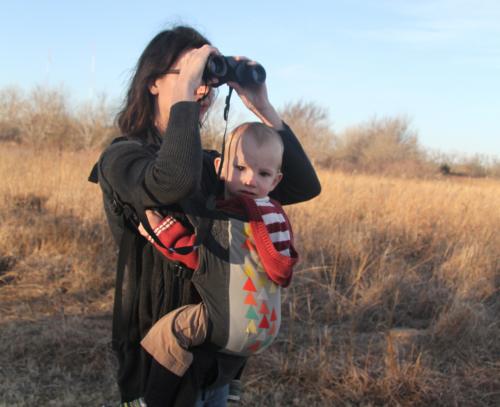 Inexpensive entertainment
Compared to many sports, birding is incredibly inexpensive. All it takes is a set of binoculars and some kind of identification aid. There are many printed field guides available. Kids really into technology can download great apps to phones or tablets for identifying birds by appearance or calls.
The more you like about birding the better equipment you can eventually buy, like spotting scopes or nice cameras. Or, you just keep using the basics the rest of your life.
Birding develops an appreciation of nature
Simply being in the outdoors and watching how birds interact with their surroundings helps develop a deeper appreciation of nature. You may see six or seven species of birds feeding on berries in your backyard. You'll see how they interact with each other, but also learn more about how birds feed and what kind of plants it takes for the birds to survive. Not only will you learn to identify birds, you'll also learn to identify the types of plants and trees they prefer, to help you find birds later.
As you sit quietly and watch birds you'll also see other kinds of wildlife, like deer, raccoons, maybe coyotes and even a bobcat or an otter.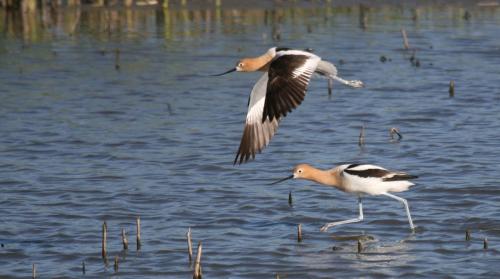 Birding helps develop your senses
With all the noise and moving things in our homes and schools, our ears and eyes become lazy and insensitive. But spending some time sitting in a quiet forest, just looking and listening can change that. You'll soon notice the slightest movement in the treetops and will able to hear things like a tiny beak pounding on the bark of a tree 50 yards away.
The more often you go birding, the better your eyesight and hearing will become and the more birds and other wildlife you'll get to see.
Birding is a great way to meet new friends
Birding can be a solitary pastime, or it can be enjoyed with others. You'll probably meet other birders at popular birding spots, like state parks. There are also several Audubon chapters in Kansas that host group birding outings and classes for beginners. You'll find most birders are friendly, and anxious to help beginners. Before you know it, you'll have a network of birding friends and you'll start getting text messages of where to go find a cool bird.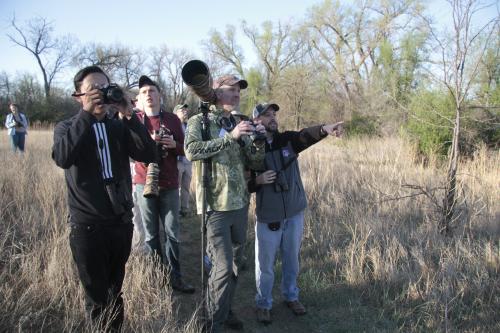 Birding can teach patience and persistence
In this time of quick and easy everything, birding helps people learn the valued traits of patience and persistence. Often to see the most amount of birds you need to quietly sit in a spot with perfect habitat for an hour or more. Sometimes you need to be persistent to see the bird that's making a particular call. You also may need to make several trips to a place to see a special bird, like a huge pileated woodpecker or tiny wren.
Birding can mean travel and adventure
Sure, there's a lot of fun birding to be had in backyards and city parks. Eventually most birders want to go to different habitats and look for different birds. Here in Kansas, that can mean leaving a home in a wooded area and traveling to the Flint Hills to look for assorted prairie species. With over 400 species of birds identified in Kansas you could bird here your entire life and not get bored!
Eventually special birding trips may take you to other great places like along the Rio Grande River in south Texas or deep into the Florida everglades for tropical-looking birds. Also, no matter where you travel, for whatever reason, there will surely be some great birding nearby.
Birding can improve your health
Just the tranquility and relaxation birding can bring is good for your health. You can also let birding help you get into better shape by searching on the move.
Kansas has over 3,000 miles of maintained hiking trails that go around major reservoirs, through dense woodlands and over vast stretches of prairie. Some trails include all three. Moving at a decent pace will allow you to get enough exercise to help your cardiovascular system and may help you explore new places to look for birds.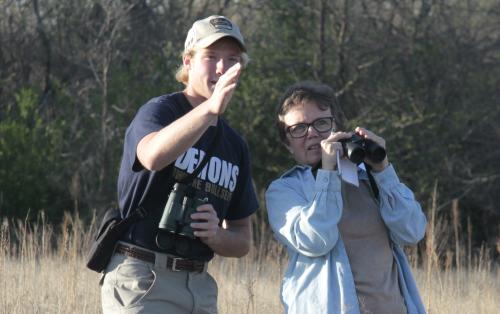 Kansas's 28 state parks offer fantastic chances to bird on the move. You can walk or ride bikes on the maintained roads or step along some of the over 1,000 miles of trails that can be accessed from a state park. Another bonus is many state parks are along the shores of lakes or reservoirs. As well as woodland or prairie birds you should be able to find wading birds, waterfowl like ducks and geese and quite possibly bald eagles or ospreys. You can also launch a kayak from the state park and paddle off to explore other birding destinations.
So there you have it, eight great reasons why you should get into Kansas birding as soon as possible. No matter if you end up being a casual birder or a super-serious "bird-nerd," the results are the same – it's a massive amount of fun. And when it comes to birding opportunities "There's No Place Like KANSAS!"