Winding my way down a path lined with bright orange tulips, I stopped under tall pine and redwood trees to peruse an artist's collection of watercolors featuring bright colored flowers when the sounds of a fiddle and accordion filled the air. The musicians were among a lineup of acts performing under a canopy of long-standing trees during Art at the Arb, an event at the Bartlett Arboretum in Belle Plaine that coincides with the city's annual Tulip Time Festival.[[endteaser]]
Art at the Arb brings over 100 visual and performing artists to the Bartlett Arboretum in this south-central Kansas town. As I listened to jazz, I began browsing the vendors with three booths featuring recycled items catching my eye. One included jewelry made from the tops of typewriter keys, vintage buttons, and bamboo Mahjong tiles, another offered mosaic picture frames, switch plates, and lamps created from broken ceramic pieces, and the third featured bird houses from worn spindles and other used architectural items.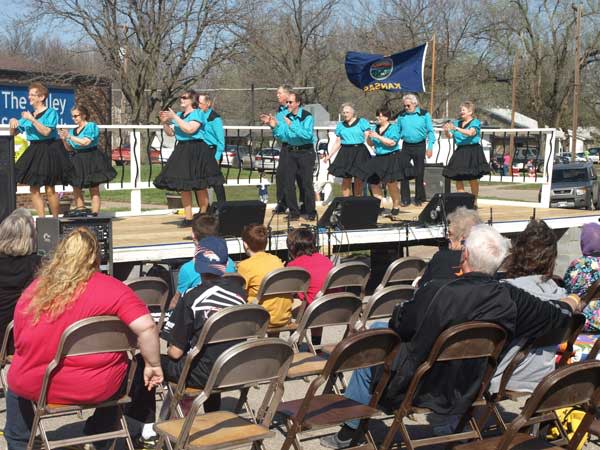 As the next act began playing rhythm and blues, I wandered over the pristine white bridge towards the formal gardens at the Arboretum that is a nature lover's paradise. Near the gazebo, I caught up to a tour by current owner Robin Macy, who purchased the Arboretum on impulse 15 years ago and has been painstakingly restoring the gardens to their former glory ever since. A lover of nature and music, Macy brings a variety of performers to the Arboretum through an outdoor concert series that runs from the end of March through October.
From Robin I learned Dr. Walter E. Bartlett established the park over 100 years ago, filling it with indigenous trees. His son, Glenn, then added varieties of non-indigenous trees that couldn't be found anywhere else in Kansas, creating a sort of tree museum. Amazingly, most of these trees planted decades ago still stand today. It was Glenn and his wife, Margaret, who cultivated 40,000 tulip bulbs on the grounds, planting the seed for what would become a community festival.
Leaving the Arboretum, I walked a few short blocks to downtown Belle Plaine, where I browsed the arts and crafts booths and found an adorable brightly painted four-foot-high metal rooster, tiki torches made from wine bottles, and handcrafted crosses created from reclaimed items such as rustic barbed wire, horseshoes, and glistening beads. All afternoon musicians and other performers entertained on a stage in the middle of the street, and I watched the Kansas Kountree Kloggers before heading home. Tulip Time is a great family event, with other activities including a car show, parade, pet show, horse rides, cycling activity, and numerous contests.
I enjoy festivals and look forward to finding a new one to attend every year. Two of my beloved events are the Chisholm Trail Festival in Abilene and the Harvest Festival in my hometown of Cuba. Where is your favorite festival?
Cecilia Harris is a professional freelance writer from Abilene who enjoys discovering fascinating attractions, events and people that reflect the arts, culture and heritage found in Kansas. She has been a longtime regular contributor to KANSAS! magazine and also has written for such publications as Midwest Living, Sunflower Living, Kansas Heritage and The Greyhound Review to inspire others to explore and appreciate her home state. She also has authored two books, "Historic Homes of Abilene" and "Abilene's Carousel."