How did you celebrate Earth Day this year? Did you learn a new tip, volunteer cleaning up a neighborhood park or did you just vow to live an extra green way of life? Our family headed to Great Bend to take part in their annual Earth Day event. We arrived at the Kansas Wetlands Education Center shortly after the event was set to open and things were in full swing.[[endteaser]]
The center is surrounded by wetlands and although they were affected by the previous year's drought, the neighboring land was still a lovely site to see, but it wasn't the view that first got my attention... it was the aroma of popcorn. Different exhibits were set up on the outside including solar popcorn, kite flying, and cookie baking. Inside there were many displays filling the area. My children got to pet local varieties of snakes, fill out quizzes for free water bottles, and assist in a group art display using "trash". The center was alive with kids activities and one of the more exciting games was a relay where children could race to put things in their places whether it was recyclables, trash or toxins.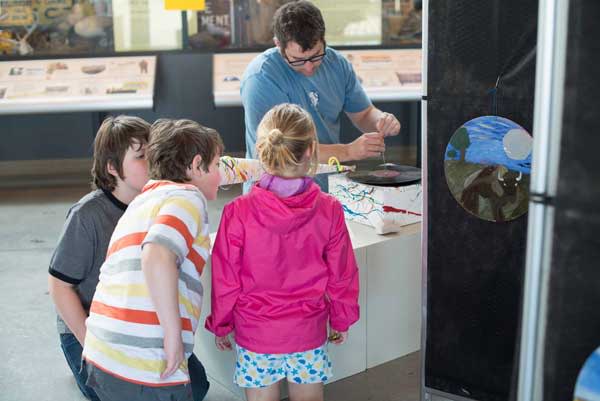 There was a science project set up by a local high school student on Hydrogen Energy that my oldest son and husband enjoyed. I myself had been looking forward to the worm composting display. Just recently adding a bin in my kitchen, I was interested to find out if my worms were being cared for properly. My family also enjoyed trying to get the manual record player to work. We did not have much luck and I would be interested to know if anyone else was successful with this.
Before we made our way back outside, names were drawn and we found out our daughter won a book on kite making. Don't be fooled by the picture of her, she really was happy to be a winner. We went to the trails for a nature scavenger hunt and there I was asked something that I have not heard before... please don't clean up after my dog. That made us all laugh since they would use his waste to compare it with other creatures in the area. We enjoyed our walk and at the end, the kids were able to locate the hidden treasure chest for their prizes.
Besides the Earth Day activities, there were also fun things to look at in the center such as Eastern Screech Owls, "What is a Wetland?" and different conservation and nature exhibits. Without the Earth Day event, I would still have enjoyed stopping in at the Kansas Wetlands Education Center. In fact, next time I'm in the area, I will visit again and spend more time browsing the permanent displays. Admission is free and their hours can be found on their website at http://wetlandscenter.fhsu.edu.

Jenni Harrison is a Topeka native and graduate of Washburn University who owns her own business. She stays busy as a leader for a Girl Scout Troop, Cub Scout Den and the never ending duties of being a mom. Besides her high school sweetheart whom she married many years ago and their three children, her other loves include two parrots and the three dogs who surround her at all times while she is working from home.