My favorite moment on our family's recent trip to the Kansas Children's Discovery Center was standing outside a Plexiglas-walled room watching my 3-year-old paint his name. He still gets the "J" backwards most of the time, but the concentration on his little face while mixing colors and spreading wide strokes across his temporary canvass was a priceless sight to see.[[endteaser]]
The new discovery center in Topeka's Gage Park is full of opportunities for priceless moments with the family. Opened in June of 2011, the center has already become a favorite of locals and travelers. The folks there call it "Serious fun."
As you explore the exhibits, you can see they have made every effort to teach with tools that peak curiosity but also promote a good time. We've been to several different children's museums, and what I like about this one is that mix of flat out fun with things that made ME go, "Cool, look at that!" If the parent is impressed, then you've got a hit.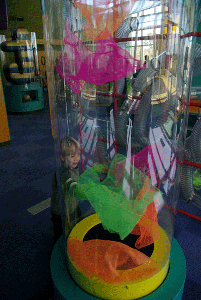 Overall, this interactive museum gives kids the chance to explore science, art and society. While your children will want to blast around the place experiencing everything, there are also a lot of opportunities for you to slow down, interact and play together.  A series of money exhibits teaches the value of a dollar. A fanciful set of air tubes with fluffy balls and scarfs demonstrate air flow. Kids can explore a series of careers by working on a car like an auto mechanic, checking out patients in the doctor's office or cooking up food in a café. A grain elevator display teaches about Kansas agriculture, and there are colorful gated toddler/infant areas for the really young discoverers in the family.
They museum also has a few things you "could" do at home, but often just might not. For instance there is the painting room. I'll admit we don't do a lot of painting at home. I usually don't want to deal with the mess. It was so nice to have a volunteer right there to help my child get the paints, put on his apron and even wash his hands when he was done. We also don't remember to make time or space for letting the boys work on the workbench with Daddy. My 6-year-old savored this opportunity to work with real tools while he and my husband created a "snowmobile" out of wood and nails. While the Plexiglas masterpieces are temporary, you get to take home the wooden creations from the workshop.
The Discovery Center is opening in phases and continues to add new exhibits. The newest is an interactive media display called Flo-Graphix. The exhibit allows kids to use black lights and fluorescent shapes to create three-dimensional designs. In spring of 2012, the discovery center will expand outside. Planned exhibits include a tricycle path, dinosaur dig, water play area and a cool climbing feature. The Kansas Children's Discover Center can be enjoyed in as little as an hour, but if you have the time (and energy) you could also spend a lot more time there, too. It's the type of place to go and enjoy again and again.

Karen Ridder is a freelance writer living in Topeka. A former News Producer for KSNW-TV in Wichita, her work can also been seen in print publications including: Topeka Magazine, TK Magazine and the Topeka Capital-Journal. She has written for several national blogs and was recently recognized as one of the 2011 winners in the Annual Kansas Factual Story Contest. Karen has lived in Kansas for 15 years and married a native Wichitan. Together they are raising two little sunflower boys and a dog named George.