Looking for a special treat for that hard-to-please person? How about a trip to Liberal to take in a dinosaur-airplane experience?
Yes, dinosaurs and airplanes will be on display together this spring at the Mid-America Air Museum in Liberal. [[endteaser]]
No, it is not a replay of a strange sci-fi movie - but a unique partnership that actually makes sense. Museum director Jim Bert explained what makes the museum a great stop for visitors in 2013 - or any time:
Why does Liberal have an air museum?
The museum started in the mid-1980s after the city acquired an 80,000-square-foot production facility that Beech Aircraft had recently vacated. The folks in Liberal decided that their very large facility would be a perfect place to pay tribute to the town's aviation heritage. That heritage includes the Liberal Army Air Field which was a training base for B-24 "Liberator" heavy bomber pilots during WWII.
What are people most impressed by when they visit the museum?
Usually their impression comes from the sheer number of aircraft. We have about 95 aircraft inside, and about seven or eight on the ramp outside. It is quite special to see. Unfortunately, there are no B-24s in the collection. While this airplane was one of the most produced in military history, it is one of the rarest today.
What makes the museum different than other aviation museums?
The diversity of aircraft is perhaps our greatest strength. We have not only military, but also general aviation and experimental home-built aircraft. You can come to the museum, and see the whole range. We also have space objects on loan from NASA.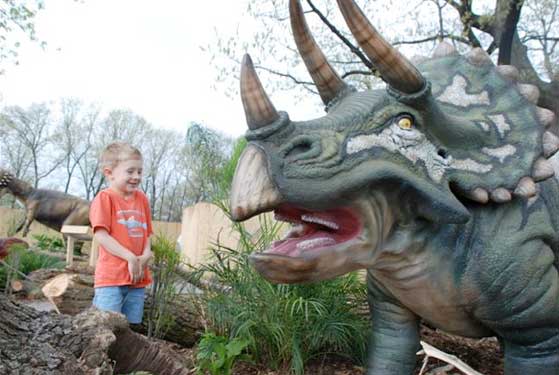 So, what's the deal with Dinosaurs and Airplanes?
Well, it starts with robotics. A part of the aerospace future is robotics. The museum has developed an educational mission to teach robotics to kids in the area. The museum's new Curiosity Robotics Academy gives kids kindergarten through eighth grade the chance to learn math and science using robotics kits. They have given kids in the area the chance to go to international robotics competition.
The dinosaurs are education for what they teach about the prehistoric era, but they are also life-sized robotic versions of the prehistoric originals. There will be a 10,000-square-foot area of the museum will be transformed into an opportunity to explore the primordial past. Thousands of people came to see this popular exhibit when it was at the museum about 15 years ago. The updated version will be on display from April 6 to May 5, 2013.
If you don't buy the robotics connection, I think another way to look at it is this:
Airplanes are big cool things - and so are dinosaurs.
Go see them both by putting a visit to Liberal on your 2013 calendar. You can find the museum at 200 West Second Street in Liberal or call 620-626-5263 for more information.

Karen Ridder is a freelance writer living in Topeka. A former News Producer for KSNW-TV in Wichita, her work can also been seen in print publications including: Topeka Magazine, TK Magazine and the Topeka Capital-Journal. She has written for several national blogs and was recently recognized as one of the 2011 winners in the Annual Kansas Factual Story Contest. Karen has lived in Kansas for 15 years and married a native Wichitan. Together they are raising three little sunflower boys and a dog named George.