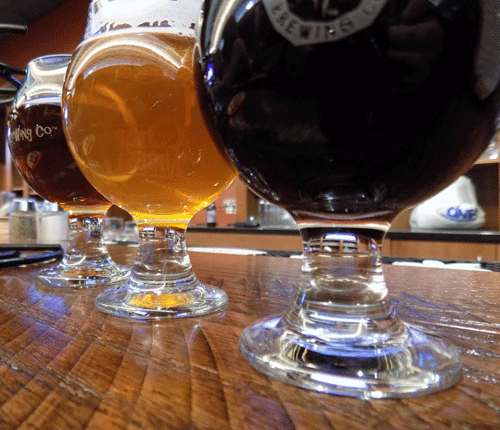 My first alcoholic beverages were cocktails college students order when they don't know what to order: a vodka cranberry, rum and coke, a margarita. For the first few years of my ordering a drink with dinner, I settled solidly on vodka with soda water and lime, which had a harshness I liked but indiscernible flavor.
Boy, was I clueless.

I had had beer, of course, Samuel Adams, Blue Moon, ShockTop, Guiness and others my husband brought home, but I truly didn't understand the concept of craft beer and what it was compared to any other bottle I could find on the shelves of my local liquor store until my husband started home-brewing two years ago.

I truly don't know anything more satisfying than a malty-hoppy brew from home.

A crisp, fresh apple wheat while I'm doing yard work, a velvety stout for dessert, a vibrant winter lager when the ground is covered in snow – there is a craft beer for every moment in life, and I wanted to taste them all.

There are more than 20 microbreweries in Kansas and you can expect more to open. The craft beer movement was born in California at Anchor Brewery, but, in Kansas, craft beer brewing for the masses began in Lawrence on the city's historically famous Massachusetts Street in 1989, which is where my trip began.

Free State Brewing Company opened its doors as the first legal brewery in Kansas in more than 100 years. The brewery today, its aged look contrasting with shining fermentation tanks, bricked brew kettle and wood-wrapped mash ton, entertains a steady stream of patrons with the array of craft beers on tap.

Top seller and flagship brew Copperhead Pale Ale is owner Chuck Magerl's favorite.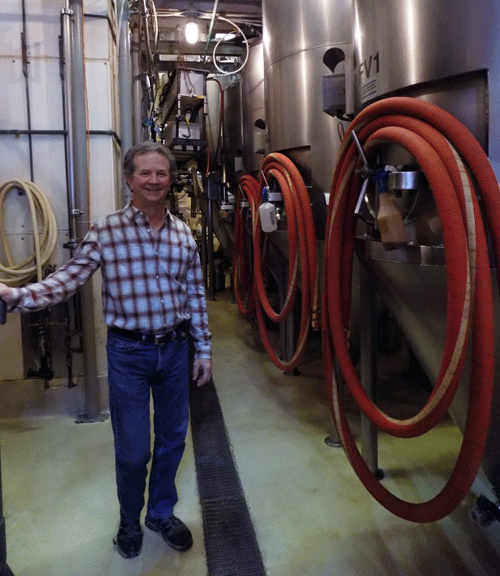 "The hops and malt balance is exactly what you look for in a beer," Chuck said.

Free State's other flagship brews include the amazingly popular Ad Astra Ale, the silky smooth Oatmeal Stout and the flavorful Wheat State Golden. Seasonal brews, including Octoberfest, Winterfest and an aptly-named Stormchaser IPA, and small batch brews, such as the Old Backus Barleywine Ale, make up a long list of craft beer selections from which patrons can choose.

Free State bottles and kegs are also distributed across Kansas, Missouri and Nebraska.

While Chuck and I were talking about brewing, breweries and beer, I sampled four of Free State's.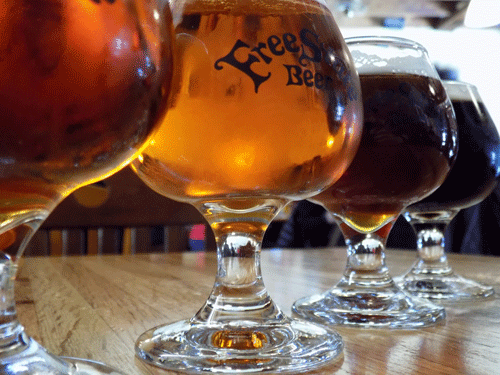 März Madness, a Märzenbier, combines German Tettnang hops with Munich-style malts for a clean, biscuity March brew. The Oatmeal Stout is smooth and full-bodied with a silky texture from the oats. The brewer's reserve – Full Kimono Imperial Red – is woody from its barrel-aging and so delicious. The Bora Bora IPA, though, was my favorite, which shocked me.

I am not a fan of IPAs. Past experiences with IPAs have set my taste buds on fire with more harshness than the vodka with soda water I used to consume.

I asked Chuck how I suddenly loved this beer?

"It can't be answered," he said and laughed, but he did tell me that acquiring taste for flavorful beer comes from drinking flavorful beer – a lesson I learned on this road trip.

American craft beer was born on the West Coast, but it's blooming across Kansas at an increasing rate – ever since Chuck walked into the Capitol building and lobbied for the case for legalizing breweries in Kansas. And won. Free State paved the way for brewers across Kansas to introduce their craft to waiting fans

(Thank you, Chuck.)

South and west on I-35 to Wichita

New to the game, Hopping Gnome Brewing and Central Standard Brewing in Wichita opened their doors just in the last year, joining the ranks of the experienced and city-famous River City Brewing Co. and Wichita Brewing Co.

"We noticed there weren't many breweries in Wichita," said Hopping Gnome co-owner Stacy Ward Lattin who runs the brewery and taproom with her husband Torrey Lattin. "Most cities our size have more."

Hopping Gnome brews Belgian, German and American style beers with six to eight on tap.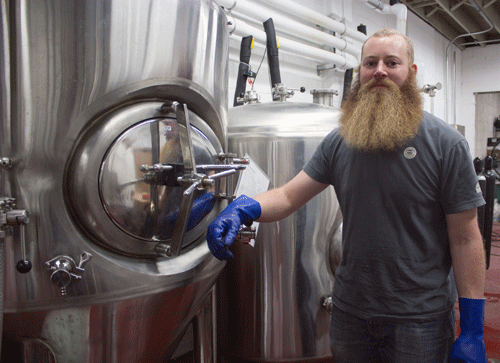 The Earl of ESB, an English-style bitter, is the most popular. Stacy said The Earl is not what most people expect with ordering a beer with "bitter" in its name.

"It's mild," she said. "If people come in and are unsure what to try, I recommend The Earl."

The second most popular pour is the Steampunk Saison, a former seasonal now on regular rotation. Hopping Gnome also brews ICT IPA, an incredibly crisp, fresh ale; Douglas Ave. Pale Ale, a sweet and biscuit-y ale; Sepia Amber Ale – my favorite of the bunch – and Frank's Oatmeal Stout, a smooth brew named after the owners' dog.

ICT IPA surprised me, too, in how much I liked it. Stacy, another IPA convert, agreed.

"It's not overpowering," she said. "Some IPAs are just too piney."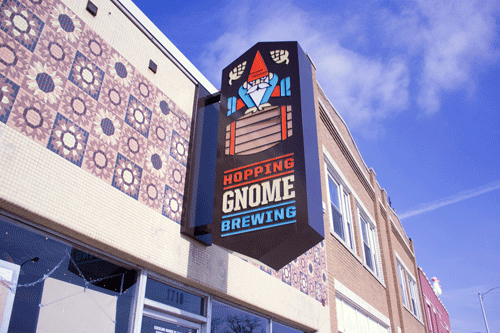 A color-blocked gnome marks their location on Douglas Ave. in Wichita's Douglas Design District, a stretch of businesses from Washington to Oliver. Art and events play a large part in District businesses, including Hopping Gnome.

"We want to create a more artistic feel," Stacy said of the businesses on Douglas Ave. "We want to make [the Douglas Design District] our own."

Upcoming in April, Hopping Gnome is participating in the District's "Peace. Love. Art." Final Friday event. After the April 29 exhibitions inside the businesses, on May 1, trolleys will travel up and down Douglas, showing off the murals and artwork lining the exterior of the buildings.

After three years brewing at home, opening their taproom in 2015 and distributing more kegs in 2016, Stacy said the interaction she and her husband have had with other breweries has been the best.

"It's been really great to have that community," she said. "Breweries do well when we're all doing well, when we're helping each other."