Every summer at Tuttle Creek State Park, you'll find - and hear - one of the largest country music festivals in the nation. Nestled along the dam of Tuttle Creek Lake, just north of Manhattan, this year's Kicker Country Stampede took place June 27-30.[[endteaser]]
The party started Thursday afternoon with a bang. Bangs of thunder which delayed the start, but didn't dampen the spirits of the tens of thousands of fans in attendance or the artists on stage, headlined by Little Big Town.
As fans and campgrounds dried out Friday, bands hit the stage at 2:30 pm, capped off by evening performances from Jake Owen and Jason Aldean. In between sets on the main stage, fans kept themselves entertained with music at the Nashville Songwriters Association International Songwriters Tent and Kite's Bar and Grille Tuttleville Tent, featuring local and regional acts.
Festival campers woke up to beautiful weather on Saturday morning as many fans headed into the concert area early to enjoy opening acts Locash Cowboys and a pair of American Idol finalists, Casey James and Scotty McCreery. A team of professional dirt bikers then performed tricks while the stage was prepped for headliner Trace Adkins.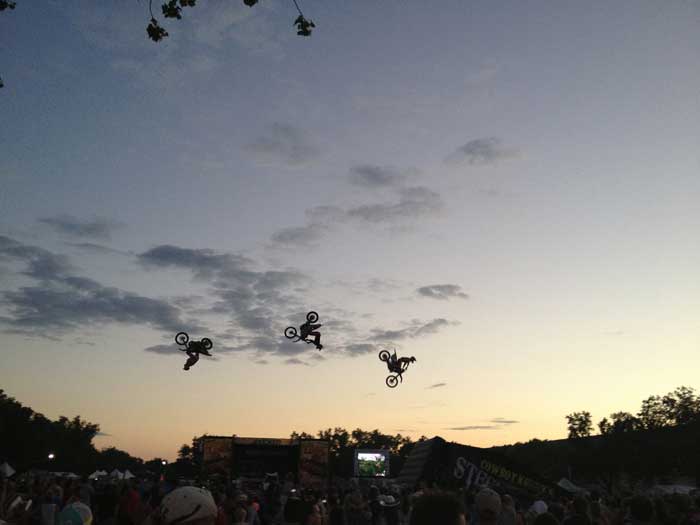 While you might expect a large portion of the crowd to head home on Sunday to get ready for the week ahead, that's not the case at Country Stampede. Sunday's huge crowd was rewarded for sticking around with Miranda Lambert's enthusiastic headlining set, which capped off an excellent week of music and fun.
The crowd stayed pumped up throughout the day, fueled by free samples of energy drinks and other treats handed out by the hundreds of vendors that border the concert area. In addition to the plethora of vendors selling food and beverages, there are a number of tents offering shirts, cowboy hats, mechanical bull rides and even airbrush tattoos.
The campgrounds at Country Stampede are just as legendary as the concert itself. Tents, RVs and campers fill the main campground, where the party continues after the last concert of the night. On the other side of the park, the family campground provides a peaceful camping setting where quiet hours begin at midnight. Camping at the festival is ideal as traffic back to Manhattan is jammed at the end of each night. Not only are you close to the action all week, you can cook meals and drink your own beverages as opposed to purchasing food and drink inside the concert area. (Although you cannot bring outside food and drink into the concert area and tailgating in the parking lots in prohibited.) 
Check out Country Stampede's website and Facebook page for more recaps of this year's festival and information about the 2014 edition. Next year's Country Stampede is projected to be June 26-29 and will feature headliner Eric Church. Additional acts will be announced throughout the year, but whoever performs, one thing is for certain:  Country Stampede will continue to be the biggest party in Kansas.

Jimmy Sevcik is a writer living in Kansas City. A resident of the Sunflower State for most of his life, he's a big fan of Kansas City's professional sports teams and may never forgive his parents for leaving him with a babysitter while they attended the 1985 World Series. ("So what if I was only a year old, Mom?") In his free time, Jimmy enjoys camping, fishing and adventuring throughout the Midwest.