A Faces & Places Roadie Blog
I may be getting a bit sentimental as I near the end of my travels as a roadie for the Faces & Places Tour 2012. Blogging each adventure provides an opportunity to reflect.  After each event, I sit at my computer and brainstorm keywords. I try to choose words that capture each experience and then use the words to shape the blog. Some of my words have included: "generation," "community" and "tradition." My word for Garnett didn't take much brainstorming.[[endteaser]] The word of this blog is "home."Garnett held its eighth annual Cornstock Festival Saturday, September 22. The festival celebrates corn and its role in the area's ethanol, distiller grains and corn oil production.  After first arriving in Garnett and scoping out the festival grounds, I went off in search of wireless internet access. Residents directed me to Garnett's attractive town square and one favorite local gathering place, "The Coffee Loft." Expecting, well, a coffee shop, I was awed by beautiful stone walls, circular stairways leading to loft spaces and a well-appointed screening room. The Coffee Loft offers unique food and entertainment in a stunning space, and owners Betts Abraham and Mark Powls were kind and quick with local information.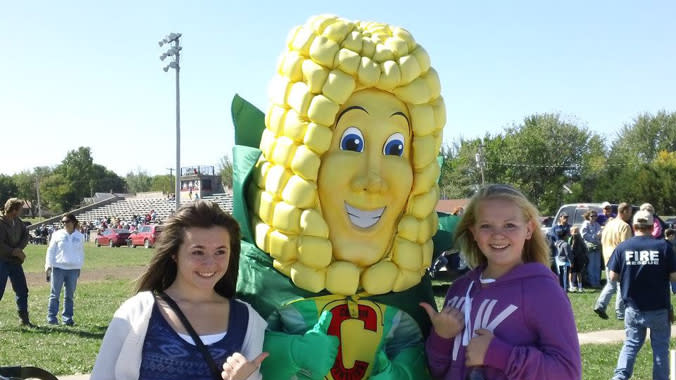 Back at the festival, I was guided to my parking place by Kathy, a Garnett resident. I asked her the population of Garnett, but stopped her before she could reply so I could hazard a guess of 3,300. After stopping someone for confirmation, Kathy said it was probably closer to 3,200. I narrowly missed the mark, but one thing was for certain, the hour or so I had spent in Garnett reminded me of home – my home – a small Kansas town of approximately 3,300.All Kansas festivals have their signature events, and the Corndog Doxie Derby belongs to Garnett. Weiner dogs arrive in town from across the state to test their speed against worthy competitors. Urged on by the raucous crowd, dachshund paws stirred the dust, doggie owners squeaked their toys and the fastest dogs took their places in the winner's circle. One local resident refused to share his name, and he may not have been the most credible source, but he mentioned a particular dog was shipped in from Alaska and had the unfair advantage of training on ice.  At Cornstock, Corndog Doxie Derby is serious business.
Strolling around the vendors' tables, I heard more "corny" jokes, met more retired schoolteachers and passed more 4-Hers than at any other festival. The events were numerous (talent show, beauty pageant, 5K run, car and tractor show, just to name a few), but the pace was slow. Fred Hornbaker brought his 1946 Willys Jeep to the car show. It was the same model of Jeep I drove in high school, but Mr. Hornbaker painstakingly restored his to its original condition. He patiently walked me through its history, showing me paint chips, and turning the windshield wipers. As we were leaving, the organizers asked us to vote for our favorite car. Even Lucas, age five, wrote "Jeep."I still struggle to explain to non-Kansans the qualities that make small towns like Garnett so special. It's a home town - people chat at the coffee shop, and Boy Scouts host the pinewood derby. And Cornstock is a perfect example of the familiar, comfortable, hometown festival.

Jessica is a teacher, librarian and mom who lives in Holton. She loves all things summertime: Gardening, lazy days at the lake, farmers' markets, and family vacations. Some of her favorite Kansas places include the Art Lab at Washburn University, the Topeka Shawnee County Public Library, the Konza Prairie and Main Street in Newton. She joined the 2012 Faces & Places Tour because it is an exciting opportunity to explore and write about her home state – and drive a really cool van.