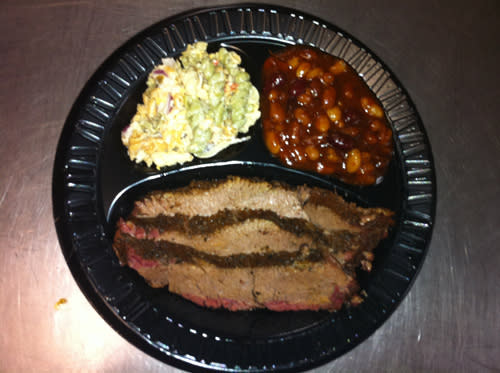 Once a month we'll spotlight a Kansas-operated restaurant or café. For this first feature, we interviewed Derek Cochran, owner of Pig In! Pig Out! in Wichita.
[[endteaser]]
1) Tell us about the history of your restaurant.
  Pig In! Pig Out! was originally a competition BBQ team started by my father, Ron Cochran, in 1993. After a few very successful years on the competition circuit, a restaurant kind of fell into place. In 1996 this restaurant opened in an old Tastee Freeze building on South Hydraulic in Wichita. The building only had seating for six inside and three picnic tables outside. My father passed away in 2001, at which point I took ownership. In 2004, we moved to our current location at 1003 East 13th St. We now have seating for more than 100 people.  
2) Tell us about your restaurant's philosophy.
  We've never wanted to be the BBQ restaurant on every corner ... we've just wanted to be what people went to for the best BBQ around.  
3) What is your signature item?
  Probably our ribs and brisket – although all of our standard meats (brisket, turkey, pulled pork, hot links and ribs) are very popular.  
4) What makes your restaurant unique both regionally and nationally?
  We got our start in competition BBQ and have used the methods and recipes we've used to win contests to make the best possible BBQ in our restaurant.  
5) Do you offer any specials or promotions during the week?
  Currently we're offering a prime rib special on Fridays – a generous slice of prime rib and two side dishes for $9.99.  
6) Have you received any awards or honors?
  We have hundreds of awards for our competition meats here in our restaurant. Probably the biggest honor was winning first-place ribs at the 2009 American Royal Invitational BBQ contest.For more information on Pig In! Pig Out!, visit
piginpigoutbbq.com