The Garden of Eden in Lucas has had a facelift. From rosy cheeks on faces to striped clothing to the red, white and blue of our nation's flag, colors dulled by dirt and mold are once again vivid, returning sculptures at the world-renowned grassroots art site to their former splendor. Artist Samuel Perry Dinsmoor mixed cement with crushed stone to create colors in the fascinating - and what some consider quirky - sculptures he formed from 1907 to 1932 on cement 'trees' eight to 40 feet above ground. [[endteaser]]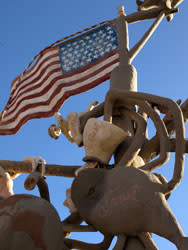 Using limestone and cement rather than wood, he first built a log cabin as his home. Then he added a practical, yet artistic grape arbor, and pyramid flower and strawberry beds designed, he said, so he wouldn't have to "get in mud to pick." There's also a 4x7-foot concrete flag on a cement tree that Dinsmoor suggested the government should use on certain sites because it would be more permanent and withstand weather better than a cloth flag.
Most of his art, however, reflects his religious and political beliefs through sculptures of people, animals, angels and the devil. I highly recommend purchasing Dinsmoor's book, Pictorial History of The Cabin Home in Garden of Eden, at the site. As I looked at each body of work, the book provided insight – in Dinsmoor's own words - into the message he was trying to portray through the sculptures. 
In addition to a meticulous cleaning, chips and cracks in the cement have been filled with matching materials and other restoration work done by a special team of experts from the Kohler Foundation, Inc., of Kohler, Wis., a company known for preserving folk and grassroot art environments. In my mind, this restoration has cemented the future of one of our state's most unusual artistic treasures.If you've already been to the Garden of Eden, the restoration definitely is worth a return trip.
What do you find most fascinating about the Garden of Eden in Lucas?
Cecilia Harris is a professional freelance writer from Abilene who enjoys discovering fascinating attractions, events and people that reflect the arts, culture and heritage found in Kansas. She has been a longtime regular contributor to KANSAS! magazine and also has written for such publications as Midwest Living, Sunflower Living, Kansas Heritage and The Greyhound Review to inspire others to explore and appreciate her home state. She also has authored two books, "Historic Homes of Abilene" and "Abilene's Carousel."