Believe it or not there is a wind and water phenomenon in Kansas-it's called kiteboarding. Many players partake down in the southwest region with the warm temperatures keep the lakes enjoyable and the windy conditions are ideal for riding the wind. [[endteaser]]
Having never tried this I was in need of an education. Nic Morel a member of the Mid America Kiting Association and Wichita Kansas Kiteboards group brings this land crawler up to speed.  
"Kiteboarding looks easy but it is an extreme sport, and over the years safety systems have been improved and kite designs have came along way for to become a safer sport," he says adding that many comrades are self-taught which can come with injury and time. 
"The first step to get started is getting a trainer kite and flying the trainer and learning the feel of a power kite," says Morel. "Those that has prior board skills like surfing, windsurfing, wakeboarding, snowboarding, skateboarding, etc.  Those board skills don't matter when learning to fly and control a large depowerable kite."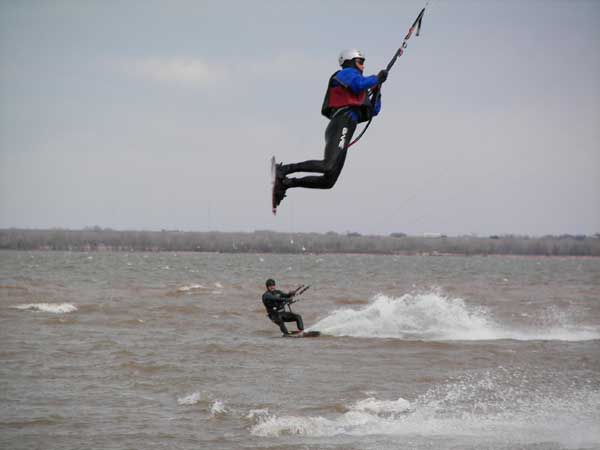 In layman's (ok ... Katy's) terms, kiteboarding allows wave enthusiasts to operate with a board similar to a wakeboard or snowboard and hold on to a large kite (7 to 9 meters in width) that catches the wind and generates the pull for speed. Using the handles to adjust direction or tricks, surfers are able to ... kite!
Austin Paley, who grew up in Lawrence, watched his father open one of the first windsurfing shops in Kansas in the '90s. "I've always been around it. My dad was a windsurfing instructor, he started the windsurfing school in Kansas, he was the first windsurfing retailer in Kansas," says Paley. "He was like ahead of the curve anyway."
With such genes, Paley cut his teeth kiteboarding on Clinton Lake.
"What I like about kiteboarding is you get out there and you catch the wind and you're actually doing the sport for like long periods of time. You can cruise up and down beaches, you can do tricks," says Paley. "That's what impresses the crowd, you can get really high."
Learning locally
OK, for a gal that enjoys snow and mountains, I can get behind a sport that turns that on its head for water and wind. So how do I learn?
Morel notes that the best way to learn is with a qualified instructor due to the nature of the sport. Many beginners are encouraged to go south for cleaner, smoother winds to learn; such as Galveston, Corpus Christi, South Padre. The main reason is safety. When you're ready, Cheney is the place to be.
"Cheney Lake is it is ranked top 10 windiest lakes in the nation.  We usually say, if anywhere is going to have wind, it'll be at Cheney Lake," says Morel.
Because Cheney Lake is a sand-based, shallow lake, it tends to be more forgiving for kiters. "This is a good learning location or good area to work on progression with minimal rocks and grass for the longevity of our kites and less wear and tear on them."
At Cheney, you'll find kiters launching from one of two points depending on the wind. When wind is out of the south, kiters will launch from M&M point on the northeast side. When the wind is from the north, they will launch from the Yacht Club on the southwest side of the lake.
Spectators are always welcome.
Gear
Kiteboarding gear includes a board, harness, bar/lines and a kite. "Kiteboard gear packs away easily in trunk of any car," says Morel.
"We can kiteboard out on the water for hours at a time due to you are hooked into the kite thru a special harness which helps disburse the energy into your core, and the bar is to control the kite," says Morel. "Typically the wind range we look for is 20mph or stronger, which Kansas has plenty of."
Bonus to kiteboarding-you're on the lake, in the water, soaking up sun, doing tricks, without ever needing a boat-kiteboarding is classified as a "toy."
Kiteboarding can also be a year-round event. "Colder seasons we wear wet and dry suits. When the lake is frozen over and there is enough snow, we will get out our snowboards and snow kite. Or if no snow we will ride landboards," says Morel.
Sounds extreme, exhilarating, and just in time for summer-sign me up.
Get Kiteboarding
Visit these links to find instructors or learn more about kiteboarding in Kansas.
http://kansaskiteboarding.tripod.com
Picture and video courtesy of Nic Morel.

Katy Ibsen is a writer and editor living in Lawrence. When she's not blogging, writing or serving her community, she's embarking on the outdoor life among Kansas' picturesque landscape.