Share the Kansas experience with family and friends!
Looking for a unique gift that carries a hint of heartland home? Share the Kansas experience with the special people on your holiday shopping list by giving a gift from Kansas.
You name it – good things come from Kansas. From homemade jams, jellies, and soaps to homegrown alpaca sweaters, Native American fine art to handcrafted cheeses and wines – you'll find just-right gifts to suit every fancy. Plus, you'll likely find ideas to pad your own holiday wish list![[endteaser]]
We've chosen the following five special items to whet your Kansas holiday shopping whistle. But be sure to treasure hunt among gift shops specializing in authentic Kansas items. Consider experiential gifts of coupons or tickets for balloon rides, horseback riding, live theater or museums in the state. Or browse local antique stores and specialty shopping districts. Our top-pick Kansas gifts: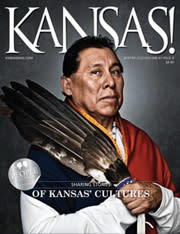 1.    Kansas! Magazine – Subscribers will receive the Kansas! 2012 Calendar as a perk along with the winter issue of the magazine.
2.    8 Wonders of Kansas Guidebook – Created to inspire travel in Kansas, this guidebook offers details on the most noteworthy Kansas architecture, art, cuisine, history, people and more.
3.    Kansas 150 Ornament – Commissioned by the Kansas State Historical Society, this enameled brass ornament marks the state's 150th birthday in 2011.
4.    My Kansas: A Photographic Journey Across the Sunflower State – This 156-page book is packed with images of Kansas landscapes, people, towns, and wildlife.
5.    Snack Gift Basket – Available from Kansas Originals Market, this gift basket is artfully packed with snacks made by Kansas food producers.