I had always wondered what it must have been like for the cowboys back in the good old days to drive cattle up from Texas to the railroad heads in Kansas. I figured I would never get the chance to do anything like that, because it didn't happen anymore. I found out this summer I was wrong.While those long-lonely days on the trail ARE over, some Kansans still get on their horses and drive cattle the old fashioned way. The folks at the Moore Longhorn Cattle Ranch lets city boys (and girls) like me come along to help out.[[endteaser]]
Our two-day drive moved about 50 head of cattle and 40 calves about 15 miles to greener pastures. It was what ranchers have to do in the west to keep their herds well-fed. For me, it was awesome. Great. Amazing. I pretty much spent most of the time with every cowboy tune I ever knew running through my head, and in two days, I got to live out a little piece of my dreams.
I was born in the city and have always lived in the city. The experience showed me how much knowledge goes into ranching. It's amazing to see it in action. It was an eye opener to a lifestyle I've always wondered about and wished for – a way to see what it was really like.
While I admit I kept picturing myself in every Western movie I've ever seen. This is not a show.  This is the closest I can come to having that dream of a life. It was a chance to be alongside real people doing real work and experience a remnant of a time that people sing about for good reason.Here's a look at my time as a drover:
We got along pretty well until she threw me on the way home.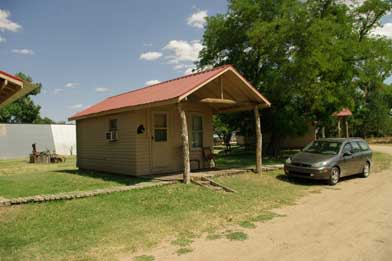 Most of us had arrived the night before and stayed in the bunkhouses.
I had arrived late the night before thanks to a flat tire, but checked in
with Joe Moore, who found me a mount appropriate to my size and riding skill.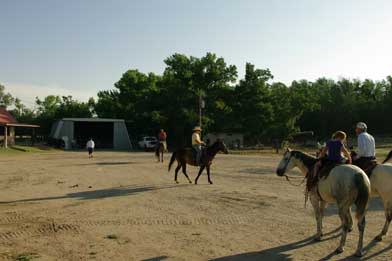 This is on the first morning. Breakfast was at 7 a.m. and we mounted up at 7:30  
for the first day of the drive.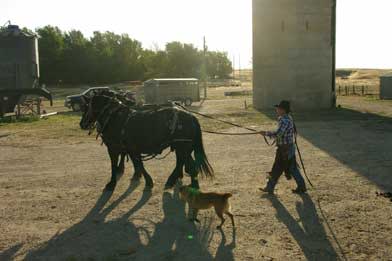 This is Joe hitching up the draft horses that pulled the chuck wagon.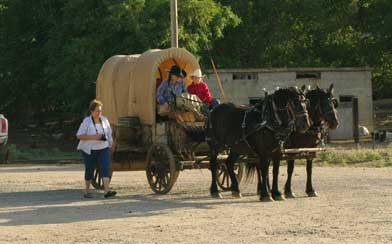 Joe's wife Nancy led the way driving the chuck wagon and cooked up our meals.
The cows pretty much knew they had to follow Nancy.
That was good since the other new drovers and I were just trying to figure out what we were doing.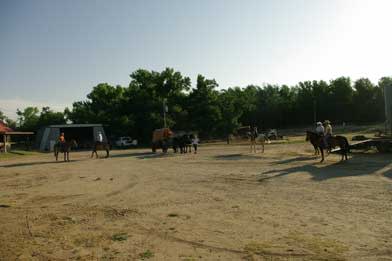 While Joe and Nancy were getting the chuck wagon ready.
I met a few of my fellow drovers – who were from all over the country:
Boston, Kentucky, Indiana, Michigan, and Texas.
They were all like me and had never been on a cattle drive. A couple of Joe's neighbors also came to help.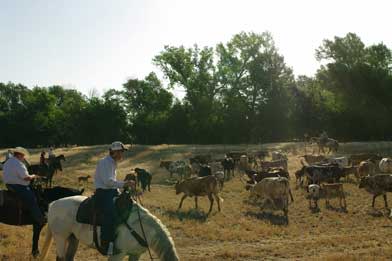 First we rode to the pasture where the cattle were milling around.
Our job was to get them moving and push them through the gate for
the first step of what would be a 15-mile trek to a new pasture.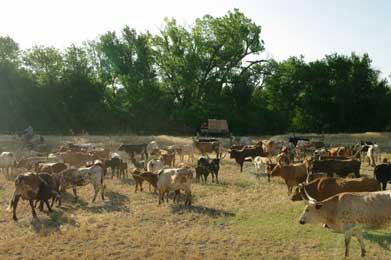 On this drive we were moving about 50 head of cattle and 40 calves.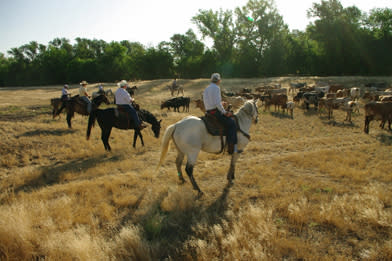 This is learn-on-the-job work. The cows moved as the horses moved on them.
The number one rule is don't let the cattle get behind you.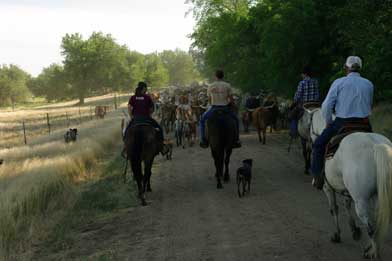 On the trail headed for the railhead. At least that's what was going on in my mind.
We were actually headed towards greener pastures.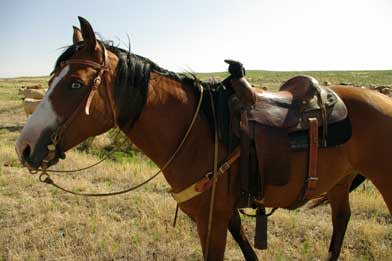 Comet. My back side had begun to hurt after about a hour in the saddle.
We're taking a rest from each other here.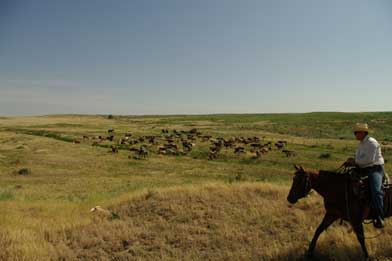 I fell behind a little bit here because I lost my hat. The wind was constantly blowing
at about 5 or 10 miles an hour, which was good because the temperatures on this July
drive were over 100 degrees.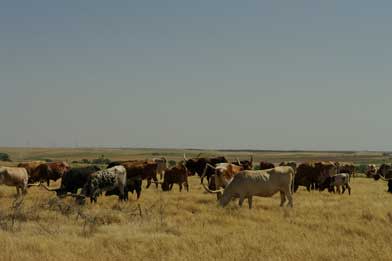 The old and the new. If you look closely you can see the modern windmills that
have sprung up across the prairie. They turn the constant wind into electricity.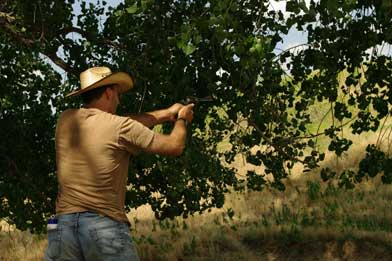 Yes, that's me with a single-action Colt .22 - Sporting sunscreen in my back pocket.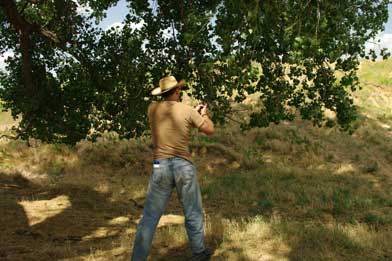 No, I'm not shooting dinner. Joe just brought it out for us to target practice.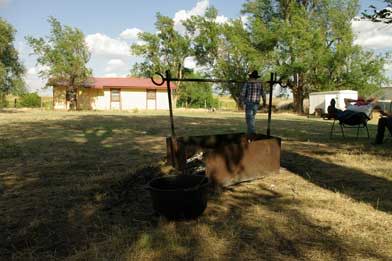 A nod to us modern cowboys. That building has real bathrooms and air conditioning
for cooling off if you need it.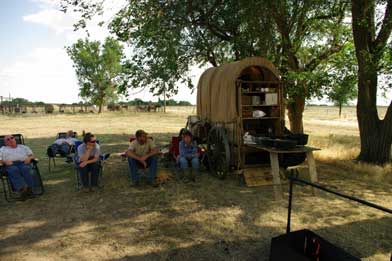 Nancy and the other drovers discussing the day on the trail.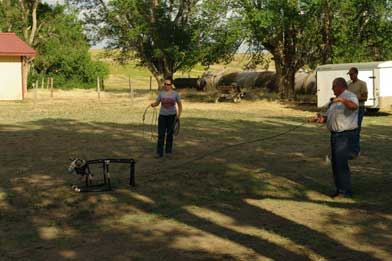 We all had the chance to learn how to rope with a plastic "calf."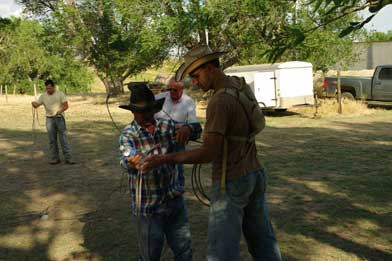 It's not easy. Here Joe is trying to show me the trick to it.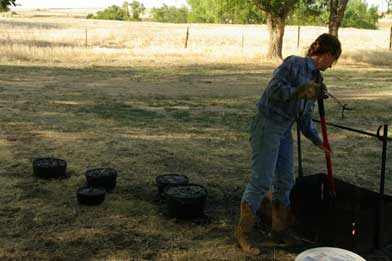 Nancy cooked us dinner in Dutch ovens. Shredded beef, cheesy potatoes, biscuits and peach cobbler.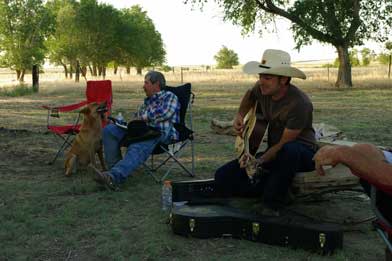 And of course, every cowboy always needs music at the end of a hard working day.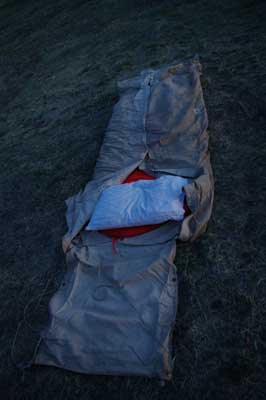 My bed roll. We all grabbed our own patch of ground for a night under the stars.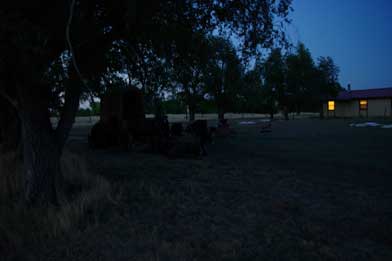 Sun goes down and the evening turned cool. I'm thinking about lying out under the stars
and watching the shooting stars and satellites go by.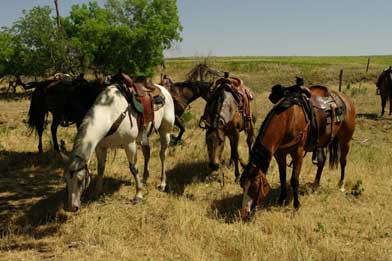 This is Comet and a couple of the other horses shortly before she decided to
throw me off. They must be conspiring in this picture, but I didn't have the
horse sense to figure out Comet wanted to be at the head of the group.
See, this is the kind of thing you learn on a cattle drive.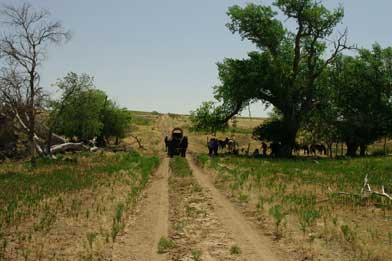 These old cottonwood trees were in a dried up creek bed. Here you can see the
long road back to the ranch.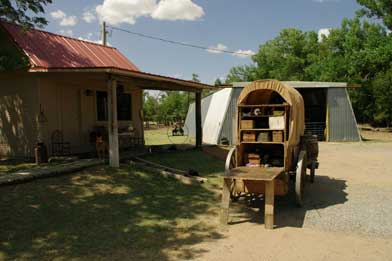 Whiskey, the dog, back at the ranch in front of the chow shack with the chuck wagon.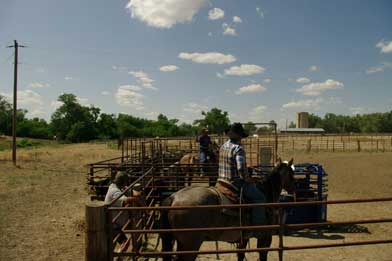 Amazingly, Joe and Nancy and one of the other drovers had enough energy after
the drive to do a little cattle roping. I was too tired to try, but it was fun to watch.
Joe and Nancy take guest drovers along on their cattle drives three times a year. Anyone, even those without much horse sense can go along and help out. If you aren't up for a cattle drive you can still go to Moore Longhorn Cattle Ranch any time, stay in one of those bunkhouses and get the chance to work along-side the Moore family as they manage their ranch. I highly recommend the adventure!