A Faces & Places Roadie Blog
When I mentioned I would be traveling to Fort Larned National Historic Site as part of the 2012 Faces & Places Tour, my six-year-old son Charlie, a budding historian, made his reservation to ride along. An invitation to spend the night in the Commanding Officer's Quarters made the prospect irresistible. So, guided by 45 mph wind gusts and high levels of little boy excitement, we set off early Memorial Weekend for the fort's biannual living history event.
Chief Ranger George Elmore and Superintendent Kevin McMurry met and welcomed us with the warmth and enthusiasm we would come to recognize as characteristic of fort staff and volunteers.We were invited to eat lunch in the mess hall with the weekend's crew. I was hungry and grateful for the invitation, but stopped short at the door. Apologizing for my Birkenstocks and iPad, I sheepishly took my place in the crowded buffet line among hoop skirts, bonnets and woolen trousers. Feeling conspicuous but encouraged by the kindness of my tablemates, I enjoyed a delicious bowl of soup and homemade bread and settled in to experience the largest event of its kind in western Kansas.
After lunch and a period-style folk concert with Chris Day and Janet Armstead, a formal ceremony marked the public re-opening of the North Officers' Quarters and the celebration of a vigorous restoration project. After the rail lines through Kansas were completed, Fort Larned was abandoned and later sold at auction. The fort remained private property until 1964 when it was made a national park. Years later, after tireless research and collaborative efforts (many contractors were hired locally), the quarters showcase frontier-style comfort.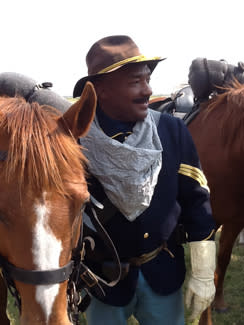 Charlie was eager to explore, and volunteer reenactors willingly answered his questions, shared period artifacts and relayed stories of fort life. We spent our afternoon experiencing life as it would have been on a working frontier fort. Blacksmiths, buffalo soldiers, officers and their families, school teachers and their students, surgeons and medical officers portrayed their characters with passion and commitment to detail.
Ken Gilpin, a retired pharmaceutical tech from Boulder, portrays a high-ranking officer in the post hospital. He says he's been coming to the fort annually since 1977. "Fort Larned is home," says Gilpin, describing the unique calming atmosphere of the fort. Gilpin and his counterparts spend time in between visits searching for items to add to the hospital displays and researching fort history to ensure accuracy.
It is just this passion and dedication to Fort Larned's story that brings storyteller/reenactor Marla Matkin back year after year. Typically portraying the historical figure Elizabeth B. Custer, Marla travels across the country teaching classes and participating in living history events. But, Matkin claims, there is, "something about the feel of the place," that makes Fort Larned unique. "Maybe because it's so complete. It just has a peaceful feel," she says.
The bugle call announced dinner in the mess hall, and, among new friends, I felt a little more comfortable in my orange t-shirt. Margaret Linderer, a volunteer cook and seamstress who travels to the event from Colorado, served an unforgettable molasses cake. I lost track of time, quite literally, as I listened to stories of the soldiers' lives.
As the sun began to set and we settled into our accommodations in the officer's quarters, Charlie asked if we could please walk one more time around the grounds. Winds were gusting, and he was worried the Buffalo Soldiers would lose their tents during the night. Soldiers lowered the flag – a smaller-sized "storm flag" due to the weather conditions -- and Mr. Gilpin sat outside the hospital, waiting for a Kansas thunderstorm to roll in.
Before returning home, we made a stop at The Santa Fe Trail Center, located on hwy 156 between the fort and the town of Larned. Depicting civilian life along the Santa Fe Trail, exhibits include historic and reproduction buildings and the Dale and Melba Woods Farm and Auto Museums. As a Laura Ingalls Wilder devotee, I pictured Laura and Mary doing homework at the dimly-lit table in the sod house and Pa preserving meat in the smoke house. Inside exhibits show the convergence of Indian, Mexican and American cultures along the trail. The center's library and archives are free and open to the public.Charlie and I recommend Larned and its attractions as part of your travels in Kansas. Discover the beauty of Fort Larned as a unique and significant historical site – and as a testament to the pride and dedication of its staff and volunteers.

Jessica is a teacher, librarian and mom who lives in Holton. She loves all things summertime: Gardening, lazy days at the lake, farmers' markets, and family vacations. Some of her favorite Kansas places include the Art Lab at Washburn University, the Topeka Shawnee County Public Library, the Konza Prairie and Main Street in Newton. She joined the 2012 Faces & Places Tour because it is an exciting opportunity to explore and write about her home state - and drive a really cool van.