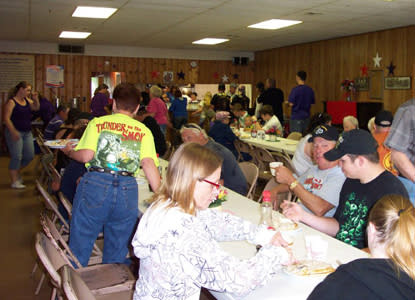 When hundreds of bikers ride into Marquette on the morning of May 19, townspeople will be ready to serve up plenty of pancakes, eggs, and biscuits and gravy. Biker breakfasts feed hungry motorcycle enthusiasts who arrive early for the Thunder on the Smoky, a Kansas Motorcycle Museum bike rally that draws 5,000 people.
While various biker breakfasts throughout the state offer motorcyclists a scenic ride and a breakfast of food and fellowship with other bikers, the biker breakfasts at Thunder on the Smoky start off a day of biker games and contests, a poker run, a bike show, and tours of the Motorcycle Museum.
One of the rally's breakfast options is provided by the Elim Lutheran Church congregation. Church council member Scott Johnson says biscuits and gravy are always a big hit, along with pancakes and fried eggs. More than a dozen members of the congregation keep plenty busy serving a few hundred people inside the American Legion building across the street from the motorcycle museum. Proceeds benefit an area family in need or are used for other special projects in the community.
Next door to the museum, The Valley Café, which normally offers breakfast from a menu, features a special biker breakfast buffet during the rally. Scott and Mary Piper rely on extended family members to keep the breakfast buffet filled at the cafe. For Thunder on the Smoky, Scott prepares four to six egg casseroles as well as sausage, bacon, ham, grilled potatoes, biscuits with sausage gravy, fruit, and mini-rolls for about 200 people. The café also hosts a biker breakfast on the third Saturday of every month from April through October in cooperation with the Kansas Motorcycle Museum.
Have you ever hopped on your bike on a Saturday morning and hit the road for a biker's breakfast?
Cecilia Harris is a professional freelance writer from Abilene who enjoys discovering fascinating attractions, events and people that reflect the arts, culture and heritage found in Kansas. She has been a longtime regular contributor to KANSAS! magazine and also has written for such publications as Midwest Living, Sunflower Living, Kansas Heritage and The Greyhound Review to inspire others to explore and appreciate her home state. She also has authored two books, "Historic Homes of Abilene" and "Abilene's Carousel."