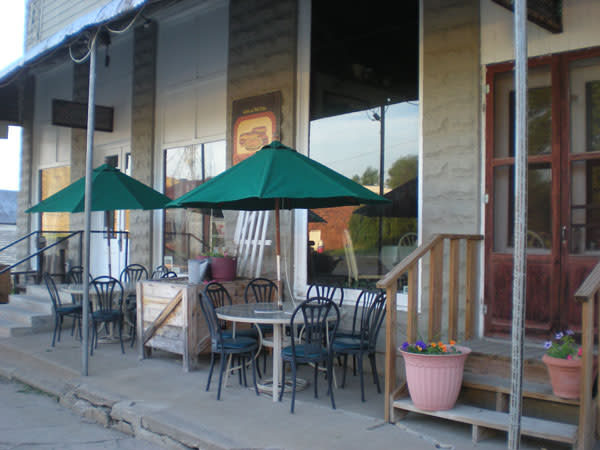 Famous for its cinnamon rolls and homemade pies, Our Daily Bread Bake Shoppe and Bistro in Barnes is just 50 miles northwest of Manhattan. The historic building's majestic windows and painted murals belie the company's humble beginnings, as you'll learn here from co-owner Cindy Hiesterman. [[endteaser]]

1) How did Our Daily Bread begin?

Our Daily Bread was started as an act of faith by my mother, my three sisters (and me), my father and my brother. We sisters still enjoy referring to the group as the "five loaves and two fishes" Jesus used to miraculously feed the 5,000. In December 2002 we opened as a bake shop in a converted, two-car garage on the north end of Main Street. Customers could buy bread and stay to enjoy coffee and a cinnamon or nut roll. In a few months we outgrew that location, and in August 2003 we purchased the 1907 building, originally a dry goods store, at 23 North Center Street. Here we had the room to add a restaurant and gift shop.

Today we're open six days a week, and we're still popular for morning coffee (beans ground daily) and baked goods made without preservatives. But now we also offer catering, host special events and ship baked goods worldwide. And now our children and grandchildren help out with the cooking and catering.

2) Tell us more about your location.

Our customers like our building's original pressed-tin ceiling, 13-foot-high windows and 1940s slate floor. We serve lunch and host special events in the Garden Room, which gets its name from the floor-to-ceiling mural of rural-Kansas landscapes painted by native-Kansan painter Julia Hodges.

3) What kinds of food do you serve?

We describe our food as "Country Gourmet." On any given day the entrees will include Ham and Asparagus Lasagna to Chicken Shepherds Pie. We're also famous for our special-events dessert buffets, and customers may choose from dinner entrees that include beef Wellington, Cornish game hen and prime rib.

4) What is your business philosophy?

Our mission says it best:
"We bring you wonderful taste-of-home baked goods in a warm and inviting environment of times gone by. You are family from the moment you walk through our door. Our superior quality and healthy products are served in an ambiance of warm hearts and open arms. Our goal is to never lose the homemade goodness and never take for granted where our help comes from ... 'I Am that Bread of Life.' John 6:48."
5) What are your signature baked items?

We bake delicious, generously deep-dish pies, including apple, cherry, chocolate cream, coconut cream, gooseberry, peach and sour cream raisin. Our customers frequently compliment us on our jumbo blueberry muffins, frosted sugar cookies, and, of course, our cinnamon rolls.

Learn more about Our Daily Bread.