From my northeastern Kansas perch, I hit the road and rather than simply transplanting myself in the western part of our state, I took a trip around the world. The Stauth Memorial Museum is a must see. Nestled in the town of Montezuma and neighbors to the first Kansas windfarm, the museum resides, showcasing the travels of Claude and Donalda Stauth. [[endteaser]]
While there, we journeyed to six continents with the Stauths, whose travels from 40 years are displayed for all to view. I knew immediately this was a museum that I would enjoy because Mrs. Stauth, a one time professional photographer, had several beautiful photos on display, which corresponded with their artifacts collected from the 95 countries. From the instrument used to charm snakes to their Christmas photo cards posted casually on the wall, I enjoyed viewing the world through her lens.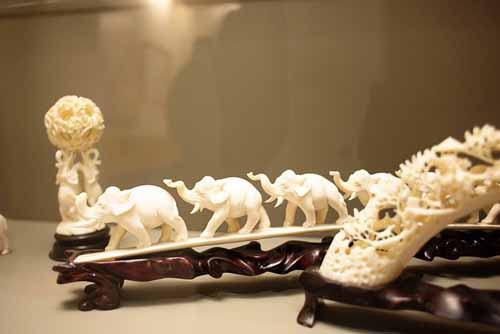 Moving from continent to continent, there were so many items to take in. This museum is a little gem placed off the beaten path and I was entranced as I discovered a lip disk from Zaire, a Streetseller Doll from Guatemala, coins from the world over and an Alaskan tool made from a walrus rib. I fell in love with the gorgeous jewelry, the hand carved ivory and the European ladieswear. My husband, who has been to similar places in his early life was also intrigued by the collection and the record keeping of the Stauths. There was detailed documentation for every item and one that he found especially humorous was the trade that had been established for the intricately carved crocodile made from ebony in Papau New Guinea - $10, chewing gum and a betel nut!
There are two other areas in the museum worth noting. First is an area dedicated to temporary exhibits and we found ourselves lucky to catch "They Also Ran: Presidential Hopefuls", which travels out of Kansas City. Second is an area that houses a game hunters paradise of North American species which belonged to friend and fellow Montezuma resident, Ralph Fry.
There is so much more I could tell you about the Stauths, their travels and their legacy, but I will let you find that out for yourself when you visit the Stauth Memorial Museum. Not only was the destination one to remember, but so was the journey. From the Flint Hills to the middle of America in Kinsley, it was a fun car ride for this family. If you find yourself nearby or desiring to get away, stop in, take a tour and say hi to Linda, An employee since the '90's, Linda not only knows Stauth Memorial Museum, but enjoys traveling Kansas herself. She gave us a few tips on places to see and we plan to take her up on her suggestions. Admission is free and donations are welcomed. For hours and a list of upcoming exhibitions and events, visit their website at www.stauthmemorialmuseum.org.

Jenni Harrison is a Topeka native and graduate of Washburn University who owns her own 
business
. She stays busy as a leader for a Girl Scout Troop, Cub Scout Den and the never ending duties of being a mom. Besides her high school sweetheart whom she married many years ago and their three children, her other loves include two parrots and the three dogs who surround her at all times while she is working from home.