Our family visited Liberal a few weeks ago. We decided to skip the continental breakfast at our hotel and venture out into the community to see what we could find. I was fully aware of the famous International Pancake Day Race that takes place there annually on Shrove Tuesday, so I wasn't surprised to find that one of the main roads in town is called Pancake Boulevard. But I was surprised to find a wonderful little breakfast spot on the side of that road - The Pancake House. [[endteaser]]
Like lots of fabulous food finds I've encountered over the years, The Pancake House doesn't look like much from the outside. A simple brick structure with a small neon sign. But inside we found a warm welcome from the staff that was busily rushing here and there, taking orders, serving multiple plates carefully balanced on outstretched arms and refilling coffee cups. We were seated quickly and handed our menus. I've never seen so many kinds of pancakes! There were standards, such as buttermilk, chocolate chip, pecan, banana, wheat germ and blueberry, as well as some for more adventurous tastes - banana, coconut, Hawaiian, potato, butterscotch, strawberry and bacon.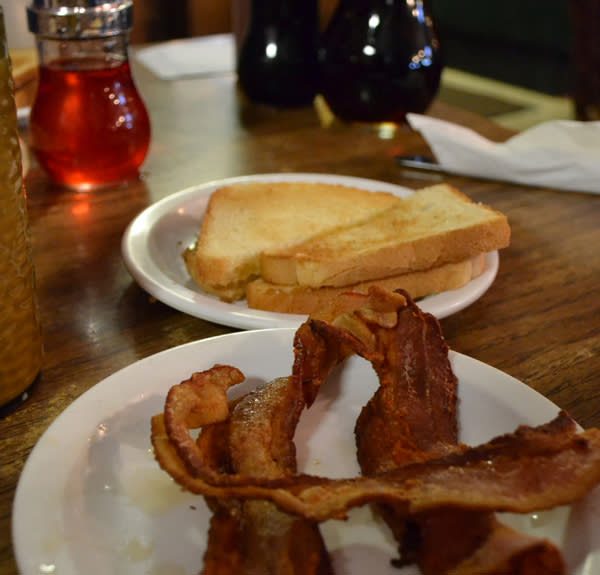 I spoke briefly with Elma Davis, the manager. She said The Pancake House has been around for more than 25 years. It was originally part of a franchise, but broke off many years ago, keeping many of the recipes and employees over the years. Chef J.C. Binns has been with the restaurant during most of its history and makes all the batters and most of the syrups from scratch. 
I tried the apple pancake, a house specialty. It takes about 20 minutes to make and when it is rushed to your table it is about eight inches tall. As it cools, it falls before your eyes. Once the "show" is over, you have the option of slathering three(!) generous scoops of butter and sprinkling a cinnamon and sugar mixture over the concoction. I showed amazing restraint (and respect for my arteries) by using only two scoops of butter and thoroughly enjoyed every bite. The apple chunks were a nice, tart contrast to the sweet and fluffy pancake and buttery topping. I later learned that The Pancake House is one of only six restaurants in the United States to serve apple pancakes made in this fashion.
Hubby tried the Mexican omelet and blueberry pancakes, served with warm blueberry compote. The omelet was loaded packed with onion, pepper, ham, and Mexican cheese. It is cooked very thin, much like a pancake, and served with hash browns on the side. Our son enjoyed the thick-sliced hickory smoked bacon, which was cooked to order (and a couple glasses of chocolate milk-after all, we were on vacation!).
After breakfast, we were delighted to find that the Seward County Historical Society, featuring Dorothy's House and the Land of Oz Museum, is just a couple blocks away. We drove by and photographed ourselves with the bronze Dorothy statue. The museum wasn't yet open for the day and we needed to hit the road, so we'll have to return on another trip. On our way east we followed Highway 160 and saw some of the most stunning landscapes along the Gypsum Hills Scenic Byway. Bright red buttes and mesas, topped with spring-fresh green grass break the horizon. Small canyons carve their way through the land, revealing more beautiful red clay soil. We took a side trip to see St. Jacob's Well, located in a sinkhole measuring 280 yards. Legend has it that the well has never run dry, and even though we visited during a drought, we could see water from the ledge. Fortunately our  breakfast from The Pancake House was a hearty one, because we made several stops along the Byway and it was a long time to our next meal!
My tips and picks for The Pancake House:
 order the apple pancake with bacon on the side
 although there is ample seating, be prepared for a short wait during busy breakfast hours

Teresa Jenkins is all business during the week, but on the weekends, she, her husband and 11-year old son enjoy loading up the car and hitting the Kansas byways in search of good food and the great people who prepare and serve it. Her favorite cuisines are Mexican, Italian, and "anything with flavor!"