Rockets, fire, stars, and a space toilet were all among the highlights of my family's recent trip to the Kansas Cosmosphere & Space Center in Hutchinson. If you are a space enthusiast at all, you really need to visit this fantastic museum and education center. If you aren't, then it is still worth a visit for the great way it tells a story. I had been to the Cosmosphere several years ago and thought I had seen what they had to offer. I was wrong, and discovering it again recently with my kids was a real treat.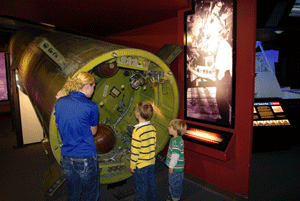 The Kansas Cosmosphere holds the largest collection of space artifacts in the United States next to the Smithsonian Museum in Washington, D.C. It grew out of the vision of a woman named Patricia Brooks Carey who started her quest in 1962 with a small planetarium.
Today, the Cosmosphere is home to some of the most famous artifacts of the U.S. space program, including the Liberty Bell 7 that sank in the ocean after Gus Grissom's infamous flight and the Apollo 13 command module Odyssey that didn't make it to the moon, but DID make it back home safely. You know the one. It made the phrase, "Houston, we have a problem," famous. (If not, rent Tom Hanks version of the story before you go and you will be duly impressed.)
The first "Wow" moment for my boys came as soon as we walked into the lobby. It was caused by the SR 71 Black Bird hovering overhead. They have a Matchbox version of this craft at home, and were VERY impressed by the real thing looming close enough to touch. As soon as we walked into the museum the rockets inspired a similar response. The Cosmosphere's main galleries follow a story of rocket development in Nazi Germany, continuing after WWII through the launch of Sputnik and the continuing space race.
There is so much to see in the museum that you could easily spend an afternoon there, but it is also very easy to just hit the highlights on a kid-friendly tour. Our guide, Katie Gillmore, did an excellent job of telling the condensed primary-school version of the story.
A new recently opened section of the galleries deals with the space shuttle program as well as current hopes for the future of U.S. space exploration. That's where we found the space toilet – always a thrill for a six-year-old boy. They also had a simulator that allowed you to try your own space walk, which is not as easy as you might think.
The Cosmosphere has three other experiences you will not want to miss if you go. An IMAX theater surrounds you with a selection of featured of IMAX movies. The Planetarium, a continuation of Carey's original dream, gives you the opportunity to lay back and look at the stars. A science show called Dr. Goddard's Lab gives you a taste of the basics of rocket fuels. The boys really enjoyed this last one. Here a live science demonstrator shows off some of the principals required to get enough power to launch something into space. This is a fun show that lasts about 45 minutes. It is interesting enough for kids and adults alike. That is assuming you like getting an up close view of things bursting into flame - usually a fun time for most people I know.
The Kansas Cosmosphere is one of the most comprehensive space museums in the world and we are lucky to have it right here in Hutchinson. It CAN be experienced in just a few hours, but it can also be a whole day trip. It was fun for the kids now, and will be fun for them again when they get a little older and can return to see it with more educated eyes.



Karen Ridder is a freelance writer living in Topeka. A former News Producer for KSNW-TV in Wichita, her work can also been seen in print publications including: Topeka Magazine, TK Magazine and the Topeka Capital-Journal. She has written for several national blogs and was recently recognized as one of the 2011 winners in the Annual Kansas Factual Story Contest. Karen has lived in Kansas for 15 years and married a native Wichitan. Together they are raising two little sunflower boys and a dog named George.