A Faces & Places Roadie Blog
It's hard not to notice art in one way or another in downtown Lawrence on any given day but on the last Friday of the month you can find the Lawrence art scene exploding with exhibits, more so than usual. On my latest Faces and Places tour, I was able to visit one of my favorite Kansas cities and explore one of the sides to it that I have not yet delved into. A few of my friends joined me and together we explored some of the stops along the Lawrence Final Fridays Art Walk and participated in a very creative dinner experience. I visited many places, most of which I had never been to and was quite surprised by what I've been missing. [[endteaser]]
Lawrence Creates
Our first stop in the Warehouse Arts District was host to the Arty Party and a growing community facility. Bringing locals together through this big initiative, a core team of four people has banded together to develop a center to inexpensively learn, teach, share and collaborate artistically. The space is user driven and also offers classes such as silkscreen, stone cutting and art welding. One of the four developers, Eric Kirkendall, stated, "Lawrence is one of the most creative places in America." Hearing this and seeing what Eric has helped to create was a very inspiring moment for me.
Seedco
My favorite stop of the evening. When we walked into the warehouse, there was someone working in the main level. Not knowing if we were in "the right place", we followed the sign marked "studios" into the basement. Broken up into spaces we discovered this was a gallery in action because of the few artists hanging around, working on projects. I loved that we could view their spaces and see what was being created, not just the final product. Open to the public on any given day, the basement is home to 15-18 artists including sculptors, street artists and fashion designers.
The Cider Gallery
This new high-end gallery was filled with live music and a feeling of openness. This stop along the Art Walk showcased upscale work from a variety of talented artists. My favorite of course? Dorothy. She greeted us immediately with her frightened expression.
The Poehler Building Mural
As we were getting into the van, we were summoned by the amazing KT Walsh to come look at the Poehler building - she had just finished the mural. I was not familiar with what she was talking about or who she was on the street but sensing her excitement, we were ready to check it out. Driving around the corner we discovered the talent of this artist that had been poured into a mural painting inside the entryway of this apartment building. Rich in colors and history, it is a wonderful addition to this district.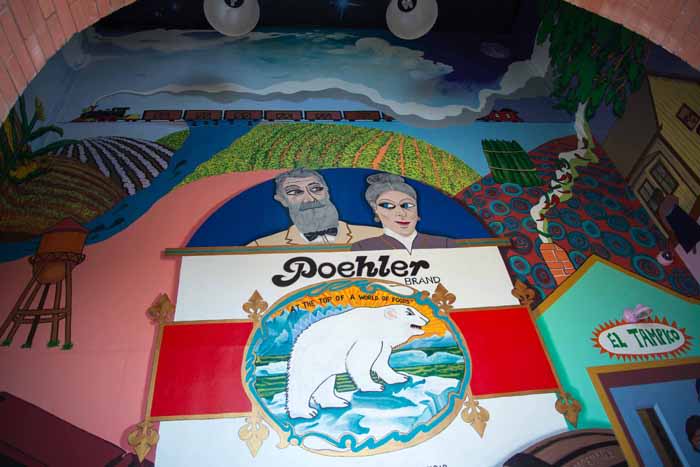 Watkins Museum of History
Excited to visit and not knowing what to expect, I was taken aback by the beautiful architecture of the downtown building itself and the permanent displays within. I had been looking forward to the theme of their Final Friday which dealt with the 150th anniversary of Quantrill's raid. Bleeding Kansas - A Life and Nation Changing Event was one piece that particularly struck me. The oil painting by Mary Ellen Anderson is the story of her ancestors and the day in 1863 when they witnessed the attack on Lawrence. A wondrous piece, it can be seen hanging in the museum through October. I look forward to stopping back by the next time I'm in town so that I can spend more time browsing.
The Phoenix Gallery
Anymore I do not go to Lawrence to shop without stopping here. I love gazing at the many objects including pottery, decor and I especially enjoy looking at the jewelry which is handmade by local artists. I was on a quest for a nice addition and found it in the form of a beaded bracelet Friday night. Running late for dinner though, I passed it up in order to not make a rash decision. I returned the next day, feeling lucky to live so close and scooped it up. I was told that many people who come through for the Art Walk return Saturday to finish their shopping.
And finally, dinner. This affair deserves to be critiqued by someone who knows food lingo but alas, it is I who tasted (or devoured) this simply amazing experience and will put my foodie-in-training hat on. Cafe Beautiful is a personalized, intimate restaurant that works on reservations only. Owner Melinda Roeder notes food allergies and dislikes before creating a multiple course meal in her somewhat obscure, upper level downtown building. Dining here is not for the impatient. From start to finish, we were there for a whopping four hours.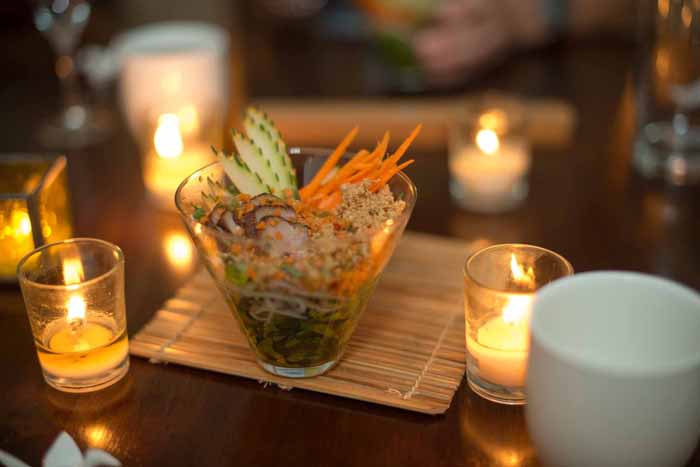 After simply hearing that the food was delicious, I did not know what to expect when I reserved a spot for four. Upon entering the candlelit room where there are no menus and only three tables, we began our food journey. We were treated to a chilled pear tea and soup that had us wishing for a carryout bucket. The coconut curry butternut squash soup, like the forthcoming dishes, had an Asian flair and was simply mouth watering. From there, we were served several small dishes, each handcrafted while we waited. With so much time in between, the evening was full of great conversation and a nice excuse to have some down time from reality.
It was not until our fruit salads arrived that I recognized that these creations were not just food, but works of art. Each was displayed beautifully and not only were they created specifically for us to delight our taste buds, but they were displayed attractively as well. The fruit salad was one of the dishes that took her the longest to prepare because the fruits were cut with an X-acto knife. Other dishes that showed Melinda's true artistic talents included a shellfish custard, snow crab cake, Vietnamese rice noodle salad, tuna sushi with avocado, salmon and sorbet. With each new arrival, we were told of the main ingredients and a bit about each dish. Every bite held so many flavors and it was four hours of complete bliss for my taste buds. Yes, this was a huge amount to eat but spread over time, it was not so painful. What would you pay a talented culinary artist who devotes her time solely to your group? With no menu and no idea in the beginning, we found the $75 per person price tag plus tip was well worth the enjoyment of the evening. Melinda brings food from a local garden and the Farmer's Market to the table in such a way that this dining experience is one that I will remember forever.
A night full of art for all of the senses, Lawrence Final Fridays is a stop on the tour that still has me raving about what a good time my buddies and I had.

Jenni Harrison is a Topeka native and graduate of Washburn University who owns her own business. She stays busy as a leader for a Girl Scout Troop, Cub Scout Den and the never ending duties of being a mom. Besides her high school sweetheart whom she married many years ago and their three children, her other loves include two parrots and the three dogs who surround her at all times while she is working from home.