A Faces & Places Roadie Blog
This was my last trip of the 2013 Faces & Places tour, and I was feeling more than a little sentimental about turning in my TravelKS van keys and packing away the official polo shirts. My grandma mentioned the other evening, "You ought to know Kansas pretty well by now," and you would think that I would feel the same. Yet Kansas manages to surprise me every single time, and my trip to Columbus and the towns along US Route 66 was no exception. [[endteaser]]
I met Jean Pritchett, Columbus Chamber of Commerce, staffing the Columbus Day Festival and Hot Air Balloon Regatta information booth. She moved back to Columbus after careers in the airline industry and the travel and tourism. When she returned to Columbus, she said, her philosophy on local festivals was, "If it flew, by gosh, I was going to do it." Although the town balked at first, the regatta has grown over the past 24 years to her limit of twenty pilots. The Columbus regatta is unique in that pilots stay with host families and develop personal relationships with community members. "The pilots stay with the same family for years; it's like homecoming for them."
Jean was quick to point out the development around the town square, and it wasn't hard to miss the bright yellow façade of a recently restored downtown building. She directed me to the building's owners, Columbus Mayor Mel Greene, and his wife, Laura Lowry-Greene. Mel and Laura also own and operate the Maple Uncommon Hotel, housed in a beautifully renovated former JCPenney department store. Firmly committed to the spirit of Kansas' small towns, the couple advocates supporting the local economy, local artists. "We have a beautiful downtown," said Mel. "(Let's) do something with it!"
 Tired and hungry after a spectacular evening of hot air balloon gazing, I made the short trip from Columbus to Baxter Springs. It was late, but I saw a bright storefront on Main Street that looked straight out of a movie. This 1950s-style diner is actually a creative after school program for area students, but on Saturday night, it doubled as an ideal location for the Riverton High band fundraiser. An hour and a good cheeseburger later, I had my complete itinerary for the next day from the recommendations of kind, knowledgeable teens.
Blocked from the Route by the Mother Road marathon runners early Sunday morning, I kindly asked a sheriff's officer how I might travel along the Route from Baxter Springs to Riverton. Standing among the barricades, he shook his head, gave me complicated directions, and then just said, "Oh, just follow me." My first stop was the historical Rainbow Bridge, notable for its Marsh arch construction, and the only remaining bridge of its kind along the highway.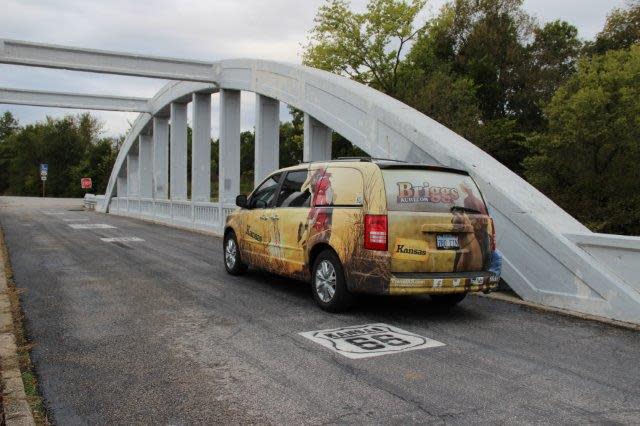 From the bridge, I followed Route 66 through Riverton to Galena. I stopped in Schermerhorn Park and Southeast Kansas Nature Center. Built as a WPA project, the park, cave and the creek that runs through the area are home to some of the rarest animals in Kansas. The park is nestled among wooded hills and limestone formations in a part of the state known as the "Ozarks of Kansas." I mentally marked this place as "need to come back."
I only had a few hours left before heading for home and still had so much left on my list. Here are a few of them to add to your own:
1.     Certainly make time for history. My weekend trip wasn't long enough to visit area museums, but on my trip back I will definitely stop at the Baxter Springs Heritage Center and Museum.  The area has rich ties to Native American culture, the mining industry and historic Civil War battles. And of course there's Big Brutus.
2.     A visit to Nelson's Old Riverton Store (also referred to as Eisler Brothers) is a treat. Built in 1925 along Route 66, stop in for road trip groceries, memorabilia and the best deli sandwich you've ever eaten in your whole life.
3.     Enjoy a coffee chat with a local. The enthusiasm of the people I met along Route 66 is infectious.  Interest in Galena, sparked in part by the Disney Pixar movie Cars, has this town hopping. Historic preservation, economic development -you'll experience community pride at its very finest.
4.     On Main Street, Galena, don't miss the remodeled filling station turned restaurant, Cars on the Route, and the 1951 International book truck ("Tow Tater"), the inspiration for the Disney Pixar character "Tow Mater."

Jessica is a teacher, librarian and mom who lives in Holton. She loves all things summertime: Gardening, lazy days at the lake, farmers' markets, and family vacations. Some of her favorite Kansas places include the Art Lab at Washburn University, the Topeka Shawnee County Public Library, the Konza Prairie and Main Street in Newton. She joined the 2013 Faces & Places Tour because it is an exciting opportunity to explore and write about her home state - and drive a really cool van.