I have officially added Adventure Racing to my Kansas Bucket List! Just watching these weekend warriors start the Thumper Race near Milford Lake earlier this March, was enough to spark my enthusiasm over this uniquely fun competition.
Charmion Harris, owner of Lake Adventures Racing in Geary County, is the mastermind behind today's race, and the petite blonde is no stranger to the fun but grueling event. The idea began over 10 years ago when she rallied friends to participate in one of her first adventure races, "guinea pigs" as they fondly remember.
Today Harris hosts multiple races attracting teams from Kansas and surrounding states. The races consist of navigation, mountain biking, running/trekking and paddling, ranging in time from 4 to 10 hours depending on your division—or how well you navigate."
Entering the race is as simple as finding a team and signing up online," says Harris.
When I arrived, racers are mulling about, checking bike tires, fueling up or sitting back and enjoying the beautiful spring day, beachside with an amphitheater of trucks and trailers from the night's previous campout. As I approach Harris I get a sense of the organized chaos that accompanies this race. From the moment a team of three, two or one checks-in, they are given their map, passport and instructions. The objective is to reach all checkpoints, add a punch to your passport, and finish as fast as you can, using the various modes of travel. The Thumper Race, only slightly easier with 15 checkpoints, is given some help on their map; Break Up, at 30 checkpoints, is a stronger test in navigation and more mentally challenging.
Harris adds, "The better the strategy, the faster the teams will move through the course with the least amount of mental stress."
As Break Up racers soar into the exchange point (aka home base) on foot, wheels or canoe, they shout out their team number and a volunteer checks them in. From there they shift gears and possibly start the canoe leg, bike or begin running again. Onlookers and other racers share encouragement as they methodically make their race exchange.
Meanwhile, Thumper Racers begin to gather their items. All racers need basic running and biking gear, but each race also comes with a specific gear list of required items.
Team Wild Women begins discussing their clothing layers: Is the wind going to pick up? Are they going to get hot while running? All questions that are vital, because once you start, you and your pack are all you have. Will it rain? Will the temperature rise? Much like the Boy Scout motto, being prepared is central in adventure racing.
Wild Women teammates share with me their enjoyment for it—noting what other race can you have fun and take 4 hours to complete? I suppose, I agree. They highlight the fact that having members good at one of the skills required makes it a lot easier (i.e. I need to find a friend who can read a map!)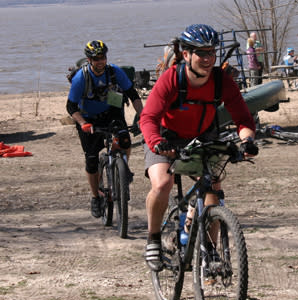 Don't let that discourage you though; Harris wants the races to be fun, but safe. Throughout the season she offers various orienteering classes to help racers learn to read a compass and locate points. Friends of Harris are quick to note, no course is the same—one might consider her a navigation ninja.
Harris blows a whistle and gathers Thumper racers for their start (Break-Up racers still whizzing in and out of home base). The teams are all smiles ready to take off on their plotted route to reach their first checkpoint. Harris calls roll by yelling out their names: "Team Golden Girls—Here, Team Dude, where's the finish—Here, Team Wild Women—Here!" It's almost a moment of humor to hear the witty team names, putting some pre-race jitters to rest.
After one last opportunity to visit their car, racers are brought back to the picnic table starting line, and with one last glance of her clock, Harris announces: Ready, Set, GO!
To learn more about adventure racing or sign up, visit Lake Adventures Racing. To see a recap of these races, covered on March 10, 2012, visit their results page.
And if adventure racing isn't your cup of tea, at least consider visiting, nearby Milford State Park where beautiful hikes provide a small dose of adventure.

Katy Ibsen is a writer and editor living in Lawrence. When she's not blogging, writing or serving her community, she's embarking on the outdoor life among Kansas' picturesque landscape.