If you go to the Great Midwest Balloon Festival, prepare for a lot of pointing and "wow"-ing.
That pretty much sums up the experience my family had at this year's event in Olathe. There are really very few things that can truly thrill both the young and the old, but hot air balloons are one of them. [[endteaser]]
All of us, from the one-year-old (who pretty much never stopped pointing) to me (who has been to balloon festivals several times through the years) found ourselves mesmerized in some way by these otherworldly orbs of flight.
It may be the bright colors, or the sometimes unbelievable shapes. It may be the super-sized stained glass-like colors you experience at a balloon glow. Maybe it's the fire, or simply the ancient fascination man has always had with flight. There is something about the experience that is dangerous and exciting and yet somehow happy, safe and dream-like at the same time.
Whatever the reason, seeing dozens of hot air balloons in a festival format, is really a fun outing for the family. Quite a few auxiliary activities provide for a lot to do in between the ballooning highlights.
Plenty of Balloons:
During the two-and-a-half hours we were at the festival, we were able to watch dozens of balloons take off in a charity balloon chase event. We experienced the inflation of the fanciful odd-shaped balloons, which included characters like the Purple People Eater, Pepe Le Pew and the Old Lady Who Lived in a Shoe. We got to experience a "twinkle" glow with dozens of grounded hot air balloons after the sun went down. There were also two balloons offering tethered rides for $10. I recommend looking at the schedule and planning your visit according to what events you want to watch.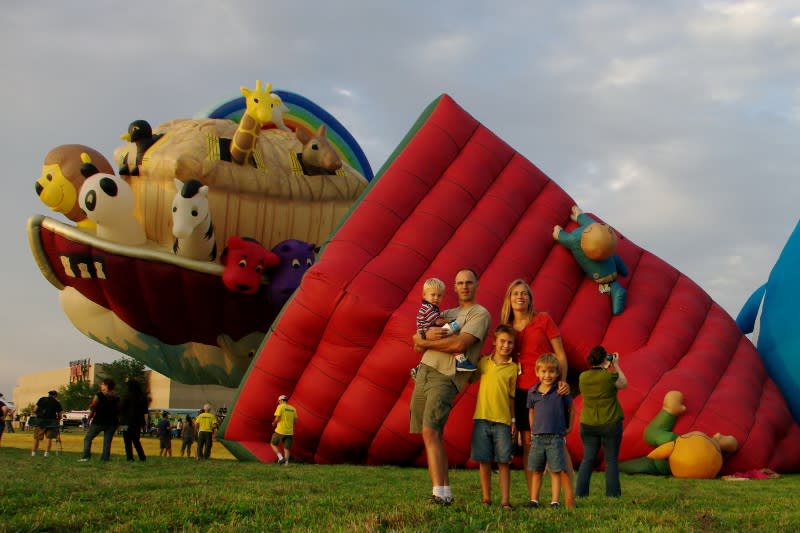 Festival Highlights for Families:
The festival included a large bounce house area (at an extra charge), a carnival, food vendors, and a variety of other people selling their wares. They also did a fine job with an "included-in-your-ticket-price" kids area that featured activities for really little kids and special entertainers geared to the preschool set. My children could have spent an hour or more here alone.
My favorite moment in the kids area was my eight-year-old running to his five-year-old brother and excitedly saying, "I was in a bubble! I was in a bubble! You've GOT to come see this!" Very well done and a good place for the filler time between balloon events.
Plan to immerse Yourself:
My advice for how to really enjoy the balloons at this event is to plan on getting yourself right down in the middle of the balloon field. There were dozens of folks who had lugged their lawn chairs and propped themselves along the edges, but this is an event that can best be experienced by standing right in the middle of it. If you have little ones, bring the all-terrain stroller or the backpack carrier. Wear your walking shoes. Head out across the field. Watch the flames shoot out of the propane tanks. Jockey for a "behind the scenes" view of the handlers inflating all of that silky fabric. Watch out for the ropes. Step around the colorful patches on the ground. Keep yourself a bit out of the way, and you'll have a really great experience.
To Catch 2014
The 2014 event is planned for a new location - still in the Kansas City area. If you want to plan on going as a part of your family's summer fun, you can check out their web site at: www.midwestballonfest.org

Karen Ridder is a freelance writer living in Topeka. A former News Producer for KSNW-TV in Wichita, her work can also been seen in print publications including: Topeka Magazine, TK Magazine and the Topeka Capital-Journal. She has written for several national blogs and was recently recognized as one of the 2011 winners in the Annual Kansas Factual Story Contest. Karen has lived in Kansas for 15 years and married a native Wichitan. Together they are raising three little sunflower boys and a dog named George.