One of the hidden treasures of Kansas is a very scenic county fishing lake called Clark County Lake. It is located 10 miles south of Kingsdown or 20 miles southeast of Dodge City. That 10 mile road goes through basically flat Kansas crop land. Then, like magic, before our eyes is this absolutely amazing multicolored rocky canyon with a deep blue sparkling lake at the bottom. It's hard to believe it is Kansas.[[endteaser]]
Whenever we visit there, it's a step back in time because we loved to go there when we were dating, over 50 years ago. Most of the roads are dirt and really, really steep. The mixed grasses on the prairie and canyon sides are dominated by yucca and aromatic sumac. Especially in the fall, nature's vibrant oranges, reds, purples and yellows paint majestic pictures for us everywhere we look.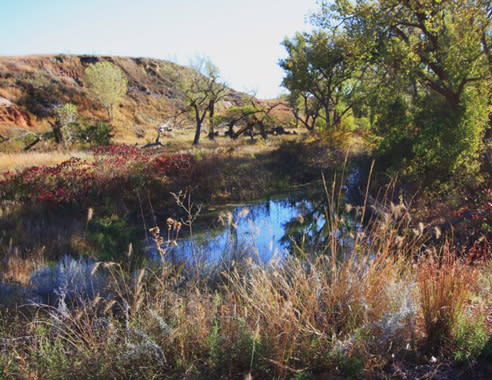 The north end of the lake has trees, tent sites and access to the water. It is primitive camping but has a quiet peacefulness not found in more congestive campgrounds. Spacious vistas are on the east side and we love to just sit and absorb the beauty that God has put before us. There are also nice picnic areas on this side. Driving to the south side, brings us to a really steep dirt road that leads to the dam and spillway. It is fun going down but a challenge to tackle coming back up. More picnic tables, trees and beautiful grasses and colorful rock cliffs are found there.
The spillway looks more like Oklahoma red dirt and rocks and gives a wonderful contrast to the greens of the trees and foliage. The road to the west side gives us a different scenic vista and worth the trip around.
We enjoy taking our ATV since there are many dirt roads in the area we can drive on. The beauty of this county extends further south for miles with rolling hills, wildflowers, rocky cliffs and that red earth look. It's definitely worth a day trip to enjoy the beauty of this rugged western Kansas treasure and the fishing is great too! Once again, it is the backroads of Kansas that beckon us. That is where the true richness of our state comes alive for us. We never know when a turn in the road will bring us to a new adventure or deeper appreciation of the unique land we live in...called Kansas.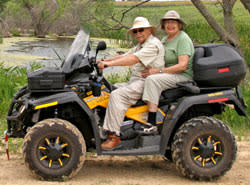 Dick & Margaret (Marg) Dwyer are retired native Kansans who enjoy traveling the back roads on their double-seated ATV.