Here's one of my favorite shots and the story behind how it came to be. I joined Instagram a couple of years ago and I was instantly smitten with the location function. I've been able to research my favorite Kansas locations and connect with other Kansas enthusiasts to find a never-ending Kansas treasure trove. Through my research I made new friends, learned from their experiences and enjoyed their adventures in photography. This of course led to new discoveries, not the least of which were the many waterfalls that I somehow missed while growing up in Kansas. I was adventurous and active in the outdoors all my life, so I knew a fair amount about the beauty that Kansas has to offer. I found out that I had barely scratched the surface. I learned I had driven by certain points of interest hundreds of times without realizing it, or worse, knowing they were there but never taking time to stop and see.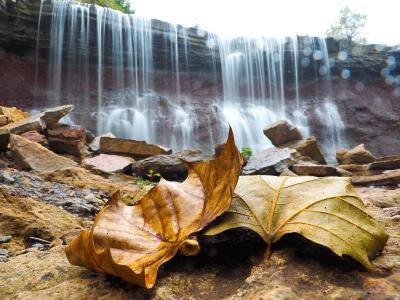 Well, that has all changed. I am firmly committed to exploring my own backyard, our town, county, region and our beautiful state. I'm committed to learning about what makes us special and sharing it with whomever will listen in any way possible, primarily through photography. That brings us to the topic at hand, Cowley County Falls. I was drawn to local photographers and quickly learned about exploring hashtags like #kswaterfalls or #kansaswaterfall. I was blown away by our special places. As I take a quick look at those galleries now I am struck by how many of these photographers that I now count as friends. They were responsible for so much of my inspiration, exploration and direction – even actual directions in many cases 😊. I am so thankful for their contribution to the exponential growth of my appreciation for Kansas. That came in a special way as I learned about Kansas waterfalls, an excellent example of which can be found in Cowley County.
Cowley County State Fishing Lake is home to one of the most impressive falls in the state. I immediately put it on my list. But first I needed to visit another impressive waterfall somehow previously unknown to me. It turns out that the falls at Bourbon County State Fishing Lake are just over 30 minutes away from our house in Iola, practically in our own backyard. Since then, I've photographed it in many different conditions and seasons along with the impressive falls at Geary County and Chase County State Fishing Lakes. But although Cowley County was a high priority, it proved elusive until this summer when my wife devised an epic plan to explore southeast and south central Kansas in October. With help from the incredible "Kansas Guidebook 2 for Explorers" she came up with a rough idea and with my encouragement added three waterfalls to the list: Butcher Falls, Eureka City Lake Falls and of course Cowley!
Fast forward to our trip the first weekend in October: my wife expertly navigated us back and forth across a large swath of southern Kansas with the help of her trusty guidebook, which was well used after four days of travel. It turned out to be quite rainy, which meant no planes landed for breakfast that Saturday morning when we visited the incredible and historic Beaumont Hotel. Through much of the year planes land on a grass runway right on the edge of town and then taxi down the street to park in the grass across from the hotel. The pilots, friends and families fly in for a great breakfast, resulting in an impromptu air show. But isn't this supposed to be about waterfalls? I'm getting there! So the same five inches of rain that put a damper on the airplanes made our next major stop really shine! You see, many of these Kansas waterfalls are rain dependent, so they are often dry starting in late summer and not recovering until the spring rains. I'd heard reports that Cowley had already dried up so that's what I was expecting. FYI they are still pretty cliffs without water.
We arrived there somewhat ill prepared regarding the correct road and parking lot. It's usually pretty easy to intuit based on a satellite map. However, due to the recent rains the road we chose proved too steep to take a chance in our adventure van, so we parked in front of a gate that just happened to join the correct parking lot. And that is where I saw one of my favorite Kansas photographers, Joe Montiel (@lovemykansas). He was landing his drone on the top of his car after shooting some aerial shots of the falls. It was great to run into him! And this was the second time it had happened. I serendipitously ran into him, his son and his drone when I took my parents to visit Teter Rock, Greenwood County in the heart of the incomparable Flint Hills a year earlier. Joe was planning to take some photos in addition to his drone shots so I tagged along with him to the overview.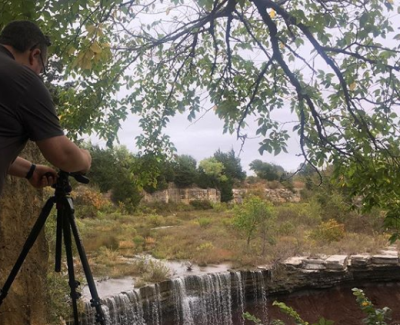 I was incredibly impressed with the view! Nothing in all my research had prepared me for the scale of things. The north side of the falls is quite high and I'd guess it's one of the largest cliffs in Kansas. It was impressive in its own right. The falls were almost icing on the cake! And they did not disappoint! It wasn't flood stage or anything but they were flowing typically. Joe and I shot some photos together and he helped me with my new (to me) camera before he went back to his car. He had a checklist of falls to get to that day and the sky looked threatening. I continued to work my way down the outcropping, stopping often for new perspectives of the falls. After reaching the creek, I moved carefully upstream, jumping from rock to rock until I made it to the base of the falls for a beautiful vantage point – complete with mist and the beginnings of another round of rain. I maneuvered around for another perspective and found the fall leaves begging for recognition as well. I was really happy with how the shot turned out, even though the clouds had started making good on their threat. I scurried back to the top and begged my wife and her umbrella to join me for a look. (She was reading a book the entire time I was exploring. After all, she's on vacation). It didn't disappoint!
It won't disappoint you either. I'm sure it's a beautiful place to explore all year 'round. It might even be at its most beautiful in the winter, if you can ever catch the right conditions with enough water and freezing temperatures. During the summer be sure to wear a swimsuit and water shoes! The next time I return I will bring rubber boots, if only for photography purposes, so I can wade to the ideal spot for the perfect shot (which I will be sure to post on Instagram @jonathanadamskansas and tag with #kansaswaterfall & #ToTheStarsKS 😊) If you do pay the falls a visit, please let me know about your experience! I'm always happy to help any way I can, and so are my photography friends like Joe, Mickey (@mickeyshannonphotography), Sinh (@sng_photos), Jamil (@jcmoody) and many others! You'll find many great friends when you set out to explore Kansas! Enjoy!
Follow them at the usernames above and see where their Kansas travels take them as well as follow our account for Kansas travel inspiration. @kansastourism #ToTheStarsKS Also check out our Kansas waterfall road trip and another waterfall blog from one of his friends.