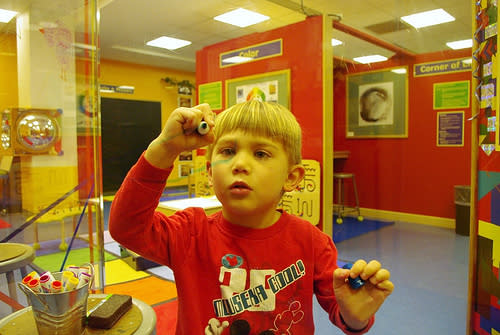 Underneath the galleries of the Mulvane Art Museum is a hidden jewel for families. While the museum displays fine art, the Judith Lennox Sabatini ArtLab is a place where kids can get their hands into creating masterpieces of their own.
Here are my favorite things about this fun place:
1. Learning about art through play: the ArtLab is set up in such a way that kids are encouraged at several stations to learn about color, perspective, texture and a number of other aspects of creating art. To kids it looks like a place to play, but it also gives them the chance to learn. Sneaky, but good.
2. The "I can too" lesson: There is always a large take-home project at the ArtLab that connects to the special exhibits on display in the gallery. This time, the kids were invited to create flying creatures (a bird, butterfly or bug).  This is a great way to engage the kids in art. I like to go upstairs after a visit to the ArtLab to show them how what they made is like what is on the walls. When we went up after our last visit to see the big "moths" and bird art on display, they were already excited about their own creations and were very interested in seeing what was in the galleries.
3. Everyone is encouraged to create: While it may be tempting to say this is just a place for kids, I love the fact that no one looks at me funny if I want to create something too. I think the folks at the ArtLab understand that we could all use a little extra time to cut, paste and color. That lesson that engages the kids in the gallery works on adults too.
4. It's FREE: I love when cultural experiences are offered for free. It makes it so much easier to go again and again.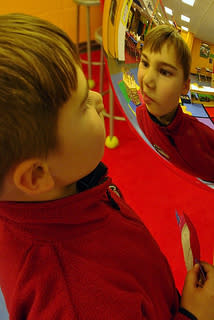 There is one not-so-favorite thing about going to the ArtLab: 

Trying to Go Home. So, here's a warning. If you take your kids to the ArtLab, they may not want to leave.

The ArtLab is really set up for parents and kids to interact and learn together. It offers Family Days about once a month that focus on creating a specific art project. These are also free and open to the public.

We are lucky to live just a couple of blocks from the Art Lab. It is the perfect rainy-day, get out of the house outlet for extra creative energy. To me, any time I can give my kids the chance to be artistic and NOT have to clean up a mess at home, I feel like I've won.  I am also amazed at how productive they can be if given tools and a few new ideas.If you find this free treasure, I think you'll feel like you've won too.




Karen Ridder is a freelance writer living in Topeka. A former News Producer for KSNW-TV in Wichita, her work can also been seen in print publications including: Topeka Magazine, TK Magazine and the Topeka Capital-Journal. She has written for several national blogs and was recently recognized as one of the 2011 winners in the Annual Kansas Factual Story Contest. Karen has lived in Kansas for 15 years and married a native Wichitan. Together they are raising two little sunflower boys and a dog named George.