Medicine Lodge celebrates Kansas history with a spectacular flair. Of course, since it is hometown to the flamboyant and tempestuous Carry A. Nation, it might not be surprising that the town knows how to get a point across. [[endteaser]]
The Medicine Lodge Indian Peace Treaty Pageant is a HUGE event. It involves so many actors, even the director is not quite sure of the numbers. Best estimates are between 800 and 1000 people. "It takes the whole town," explained Cathy Colborn, this year's pageant director. That could be why the event takes place only once every 3 to 5 years.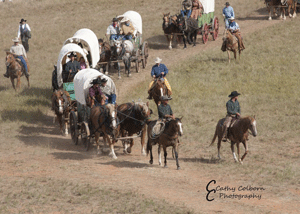 The show covers about 300 years of history and culminates in the re-enactment of the Peace Council of 1867 between the U.S. Government and the members of the Apache, Arapaho, Cheyenne, Comanche and Kiowa nations. The pageant is performed in a natural amphitheater near the location where the actual peace treaty took place. This year's pageant coincided with the state's sesquicentennial celebration and included a host of events to go along with the big show. Our friends over at the Moore Ranch Experience came to town with their longhorn cattle after a six-day cattle drive to get there. The 23rd Annual Kansas Championship Ranch Rodeo also settled the question of which ranch in Kansas has the handiest "hands." There were parades, craft shows, art sales, a historical re-enactor encampment and helicopter tours- quite an event for a town of about 2,000 people.

But Medicine Lodge is not just a place to go every 5 years. Our family visited recently and enjoyed the Carry Nation home and Stockade Museum. The Stockade Museum is a replica of a stockade built to protect early Medicine Lodge settlers. It includes the 1877 Smith log house and a peace pipe from the 1867 peace treaty. The museum has such an eclectic mix of other historical artifacts that it feels like a roomful of hidden treasures.

Next door to the Stockade Museum (and included in the price of admission) is the home of Carry A. Nation. She is the woman who became prominent for carrying a hatchet in the temperance fight against alcohol in the early 1900s. It was while living in this Medicine Lodge Home that she was inspired to start a saloon smashing campaign which would bring her international fame. The house is furnished with several of her personal items and tells the Carry Nation story. Carry Nation is one of my favorite Kansas characters and was one of only three women recently named to the list of top 25 most Notable Kansans.

Just west of town, you won't want to miss the Gypsum Hills scenic byway. This relatively short byway takes you past red mesas and buttes topped with white gypsum before opening up to the vast grasses of the prairie. If you are brave enough, there is also a neat Open Range drive you can take to get you right in the middle of this unique Kansas landscape.

Medicine Lodge is a town with passion for its history. The Peace Treaty Pageant has been happening for nearly 100 years, and has a history of its own. Check out this clip below that I found on the Kansas Memory website. It is a movie of the pageant during the 1961 Centennial celebration of Kansas statehood. Some of the language in the script is less culturally sensitive than today, but it's an interesting view.  Enjoy.

And if you've ever been to the Peace Treaty pageant or Carry Nation's home yourself feel free to leave a comment about what you thought of it.

<

Karen Ridder is a freelance writer living in Topeka. A former News Producer for KSNW-TV in Wichita, her work can also been seen in print publications including: Topeka Magazine, TK Magazine and the Topeka Capital-Journal. She has written for several national blogs and was recently recognized as one of the 2011 winners in the Annual Kansas Factual Story Contest. Karen has lived in Kansas for 15 years and married a native Wichitan. Together they are raising two little sunflower boys and a dog named George.