Some of the greatest things to see in our state require a trip down a dirt road and a sense of adventure. Threshing Machine Canyon is certainly no exception. That's where you can see graffiti from the mid-1800s and walk in a place that has a curious past."[[endteaser]]"
The canyon was a stop on the Butterfield Overland Despatch in the 1860s. It became famous in 1867, when the mail and freight service that cut through Kansas was transporting a threshing machine to Brigham Young in Salt Lake City. The wagon train carrying the machine was ambushed at the Bluffton station in the canyon. All the men were killed, and the threshing machine was set on fire. The machine was left in the canyon for years (it now sits in the Trego County Historical Society Museum in WaKeeney) and transformed into something of an early tourist attraction. While the station was moved, the area became a stopping point for westward travelers, who made a habit of carving their names into the 75-foot high bluff. Some of those names can still be seen today. Pretty cool – for a pretty short trip down a dirt road.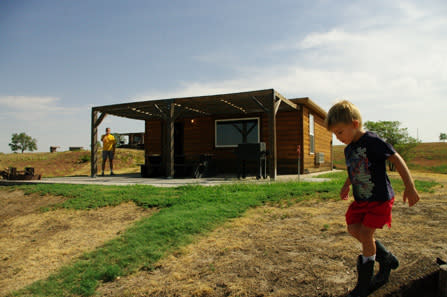 The best way to see this place, and enjoy the area is to book a night at one of the cabins at nearby Cedar Bluff State Park and Reservoir. We stayed at the Whitetail Ridge cabin which looks across the lake towards the Threshing Machine Canyon.
The cabins are great. They are the best of camping without the worst of camping. You can cook-out, and enjoy nature, but have a real bed, air conditioning and a roof over your head to spend the night. These are not glamorous places, but they are really tidy and nice, especially if – like our family – one spouse loves the idea of sleeping on the ground under the stars and one most decidedly does NOT. The bathhouse is a walk, but there IS water at the place and a small fridge and microwave. The boys LOVED it. We would really like to go back and do this again sometime. You can book online and, like I said, the price is right. The one we stayed in cost $45 for the night. You do bring your own bedding and clean up after yourself, but at that price it's not much more expensive than camping, and you can do it year-round in comfort.
This trek was a prime example of something I have learned in my travels around our state. If your only experience with Kansas is I-70, you REALLY need to take an extra day, try one of the scenic byways and get a taste of what the windswept plains of Western Kansas are truly about.Kansas is a completely different place when you take those side highways. You will find hidden vistas and vast expanses, a few oasis like Cedar Bluffs Reservoir, and a few adventures like the Threshing Machine Canyon. I think you'll like it if you try it. Let me know.What is your favorite Dirt Road Adventure in Kansas?

Karen Ridder is a freelance writer living in Topeka. A former News Producer for KSNW-TV in Wichita, her work can also been seen in print publications including: Topeka Magazine, TK Magazine and the Topeka Capital-Journal. She has written for several national blogs and was recently recognized as one of the 2011 winners in the Annual Kansas Factual Story Contest. Karen has lived in Kansas for 15 years and married a native Wichitan. Together they are raising three little sunflower boys and a dog named George.