I have always loved glass art. When I was a child, my grandmother collected paper weights. I used to pick them up and marvel at the bursts of color sprouting from beneath layers of clear glass. These things of substance and beauty always held a little bit of mystery for me. My favorites could be turned upside down to reveal what seemed like a single point of color mysteriously bursting into the central floral or spiral design of the piece. They seemed impossible, mesmerizing and yet somehow soothing.[[endteaser]]
A recent trip to Karg Art in Kechi reminded me of this experience.
The glass art gallery of Rollin Karg just north of Wichita presents a feast for the eyes. Karg Art is not so much a store as an experience. Thousands of glass art pieces line the shelves and hang from the ceiling. The work ranges from simple paperweights, like those that held the attention of my youth, to fascinating museum-quality pieces that made me glad I left my big kids at home.
The only child I brought with me was safely restrained in the stroller, and that was for the best. This is more of an "outing with my mother-in-law" type place than someplace to take the kids. Thankfully, she happily had agreed to accompany me. We had fun just wandering around enjoying the variety of colorful creations. A lifelike fish captured mid-jump, hearts, roses and fanciful abstract pieces all beautifully presented vibrant colors that begged to be noticed.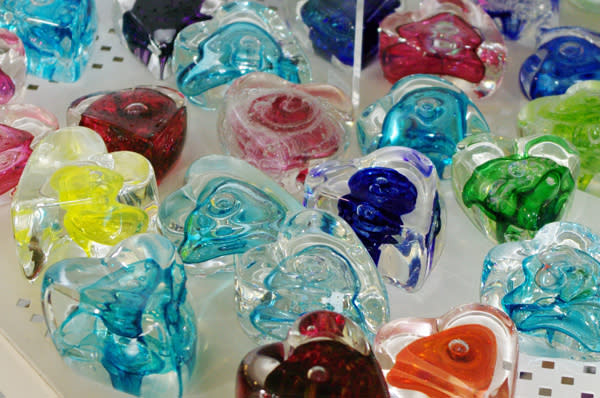 I generally think of glass art as an inside and fragile thing, but some of the most beautiful pieces you will see at Karg Art are actually made to withstand the weather. Larger pieces of artwork sitting outside the gallery display great mixes of metal and glass. I loved the idea of having a splash of color created to hang on my backyard fence.
Rollin Karg has been using both traditional and innovative glass blowing techniques in his glass art pieces for 30 years. His work in the gallery is featured alongside that of dozens of other artists. So, there are a wide variety of styles, price points and objects to view and potentially purchase.
You also can see glassblowers at work throughout the week every day except Wednesday and Sunday - though the gallery is open on those days. However, schedules sometimes change. So, it is best to call ahead to make sure a glassblower is working before you go. (316-744-2442)
One way to turn your trip into a real event is to consider taking an experience-style class. For only $25 you will get the chance to blow your own ornament. You CAN actually do this with children as young as five yearsold. At this price point, you won't be handling anything dangerous, but it will be a fun experience for all ages.
For slightly more money ($75 to $135) you can have a session and do some pipe work, creating your own paperweight, bowl or heart. You DO have to be at least 18 years old for that, but will get to do a bit more of the work. Both of these options can be scheduled by appointment.
Being February, I thought about how these flowers and hearts don't fade or spoil. What a perfect gift for your sweetheart, in February or any time. To visit Karg Art head north from K-254 on Oliver. Gallery hours are 8:30 a.m. to 5 p.m., Monday through Saturday and 11 a.m. to 4 p.m. Sunday.

Karen Ridder is a freelance writer living in Topeka. A former News Producer for KSNW-TV in Wichita, her work can also been seen in print publications including: Topeka Magazine, TK Magazine and the Topeka Capital-Journal. She has written for several national blogs and was recently recognized as one of the 2011 winners in the Annual Kansas Factual Story Contest. Karen has lived in Kansas for 15 years and married a native Wichitan. Together they are raising three little sunflower boys and a dog named George.