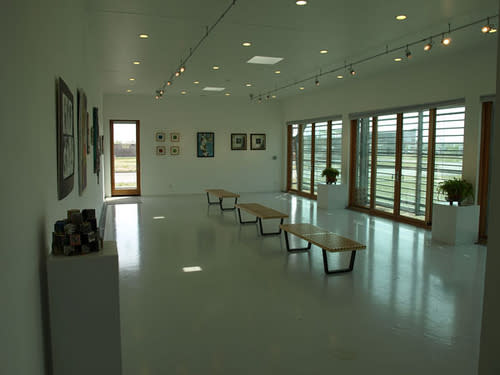 The 5.4.7 Art Center is proof that something good for the benefit of all can come out of great tragedy. If it were not for the tornado that destroyed most of Greensburg on May 4, 2007, this Center that has become a regional resource for contemporary art in southwestern Kansas would not exist. And we would not have the opportunity to see the exhibitions of internationally-recognized artists inside a building that itself is a work of art with its exterior of tempered glass blocks covering reclaimed lumber as a sustainable feature of the contemporary architectural design.

Through whirlwind planning and construction, the Art Center with a name bearing the date of the storm was dedicated on the first anniversary of the tornado. Director Stacy Barnes says the Center became a special place where Greensburg residents reeling from the devastation of their community could view beautiful objects and, for some, heal through art classes offering a therapeutic creative outlet.

Today, the Center's gallery provides the opportunity to enjoy such media as abstract art, photographs, ceramics, sculpture, paintings, printmaking, textile work, and quilts created by artists from across the nation. The temporary exhibits last from six to eight weeks and include public presentations and workshops led by the visiting artists.

Among those scheduled this summer are Gerard Brown, an art professor at Temple University who used the Kansas State Historical Society's online photo database to create his exhibit, and Patricia Burnett, a former Kansan living in New Mexico who combines old quilt patterns with modern painting techniques.  Burnett's exhibit weaves a tale of an American family by combining her paintings with stories and photographs of her own ancestors. A Norman Rockwell exhibition is planned for 2012.

Other activities include live music events, art classes, and outdoor movies with seating on the Center's front lawn.

The lawn is adorned with several interesting sculptures; my favorite pieces are the Whisper Benches created by Jim Gallucci of North Carolina.  Great fun, you whisper something into the purple pipe at one end of the bench and every word travels through the winding tube to the ears of a person seated at the other end of the bench. I love sculptures, even if they don't whisper. What's your favorite medium of artwork?


Cecilia Harris is a professional freelance writer from Abilene who enjoys discovering fascinating attractions, events and people that reflect the arts, culture and heritage found in Kansas. She has been a longtime regular contributor to KANSAS! magazine and also has written for such publications as Midwest Living, Sunflower Living, Kansas Heritage and The Greyhound Review to inspire others to explore and appreciate her home state. She also has authored two books, "Historic Homes of Abilene" and "Abilene's Carousel."