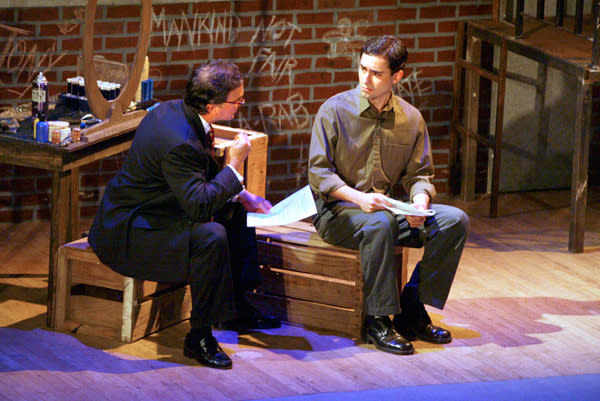 An internationally renowned theatre festival occurs yearly right here in Kansas in honor of our state's very own Pulitzer Prize and Academy Award winning playwright, William Inge. Inge's work included Picnic, Bus Stop, The Dark at the Top of the Stairs, and Splendor in the Grass. The William Inge Theatre Festival in his hometown of Independence is a four-day celebration of some of the most prestigious playwrights and theatre artists in this country and the world and is well worth the minimal fees charged for the events. Here are 10 reasons to attend some or all of the 31st Festival's activities tomorrow through Saturday (April 18-21) at the William Inge Center for the Arts on the campus of Independence Community College:David Henry Hwang, a dynamic and versatile playwright who has won a Tony Award, is being paid tribute during a multi-media event with live performances, video, and guest performers from across the nation. Hwang is the festival's Distinguished Achievement in American Theatre Award winner, joining such past winners as Neil Simon and Arthur Miller.
Michael Wilson is directing a concert presentation of Off The Main Road, a recently discovered play by Inge. Wilson currently directs a star-studded cast in Gore Vidal's The Best Man on Broadway.
A concert reading of a new play, The Most Deserving, written by Catherine Trieschmann, the winner of the festival's Otis Guernsey's New Voices in Playwriting Award. Trieschmann makes her home in Hays, and her work has been produced off-broadway.
Workshops led by renowned experts on topics such as voiceovers, monologues, costume design, stage management, theatre budgets, independent filmmaking, musical theatre and making a career in professional theatre.
Master classes with Broadway veterans, including one conducted by David Henry Hwang on writing.
The work of Inge and the festival's past honored playwrights highlighted through a selection of scenes performed at the historic Inge family home.
Interactive discussions about Trieschmann's The Most Deserving and Inge's Off The Main Road.
The Inge Collection open to visitors at the Independence Community College Library with a presentation by Inge's biographer Ralph Voss.
Panel discussions on the work of Inge and Hwang.
A guided bus tour of Inge's historic hometown of Independence.
 
Cecilia Harris is a professional freelance writer from Abilene who enjoys discovering fascinating attractions, events, and people that reflect the arts, culture and heritage found in Kansas. She has been a longtime regular contributor to KANSAS! magazine and also has written for such publications as Midwest Living, Sunflower Living, Kansas Heritage, and The Greyhound Review to inspire others to explore and appreciate her home state. She also has authored two books, "Historic Homes of Abilene" and "Abilene's Carousel."