At the sound of the clip-clop of hooves on pavement and the jingle of bells, I could feel the excitement building amongst the crowd standing around me on a street corner in downtown Lawrence one chilly morning.  [[endteaser]] Small children atop their daddys' shoulders began pointing to the cavalry mounted color guard coming up the street, the first entry in the Old-Fashioned Christmas Parade hat took us all back to the days when horses, donkeys and mules pulling buggies, carriages, wagons and stagecoaches provided the main means of transportation. One of only a few parades in the country requiring all entries be in the horse family, this unique event combines history with a festive holiday atmosphere.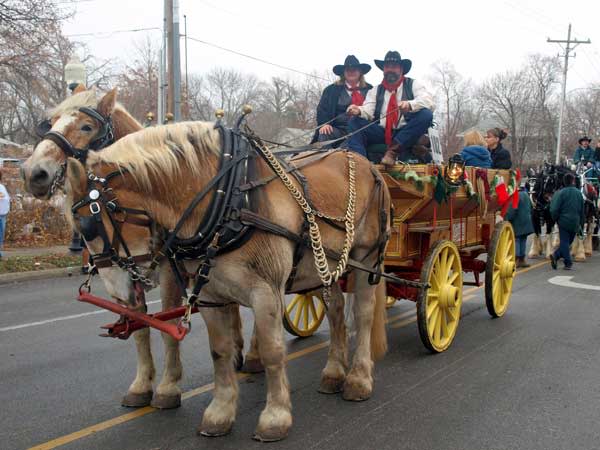 Longtime parade director Elaine VanDeventer told me the purpose of the parade, celebrating its 20th anniversary this year, is to remember where we came from and to realize how far we have come. As I watched several wagon riders being jostled about, I realized how sore the pioneers must have been traveling over rocky roads with no shock absorbers! And to be exposed to the cold and wind in an open wagon on a winter's night…brrrr! This parade is a must-see for those who love history, Christmas or horses. Belgians, pintos, clydesdales, peruvian and shetlands were among the breeds pulling the historic and reproduction buggies, carriages and wagons decorated for the holidays.My top five favorite parade entries (in no particular order) include:
My beloved clydesdales pulling a large, bright red wagon with white wheels.
The Buffalo Soldiers who sang a woeful tune as they rode down the street dressed in  uniform.
A small, one-person carriage pulled by the cutest miniature donkey.
Pioneer Josie and the other horseback riders who wore period costumes from the Colonial, Victorian, and Wild West eras.
All the draft horses bedecked in silver and black harnesses with jingle bells that brought the sound of Christmas to the parade.
Lawrence offers special events in conjunction with the parade, including a holiday art fair, a gingerbread house festival, and a shopping holiday extravaganza. Will you be there on the first Saturday in December next year?


Cecilia Harris is a professional freelance writer from Abilene who enjoys discovering fascinating attractions, events and people that reflect the arts, culture and heritage found in Kansas. She has been a longtime regular contributor to KANSAS! magazine and also has written for such publications as Midwest Living, Sunflower Living, Kansas Heritage and The Greyhound Review to inspire others to explore and appreciate her home state. She also has authored two books, "Historic Homes of Abilene" and "Abilene's Carousel."