I can swim, bike and run. I can do all three of these sports in mediocre fashion. So the idea of putting them together and competing in a triathlon seems pretty extreme ... and exciting.[[endteaser]]
What better a venue for such an event than the 30+ year old Tinman Triathlon, held June 15 at Lake Shawnee in Topeka.
With the idea of knocking a triathlon off my bucket list, I began to look for training programs, then the call came in. "Katy, we're getting married! Will you be my maid of honor?" cheered one of my dearest friends noting the wedding would be June 15 at Circle S Ranch (which makes for another fun Kansas Tourism blog post!). 

Alas, I would have to put my triathlon goal on hold.
This however didn't stop me from vicariously living through Justin Henning-a weekend warrior much like myself who decided for various reasons to attempt his first triathlon.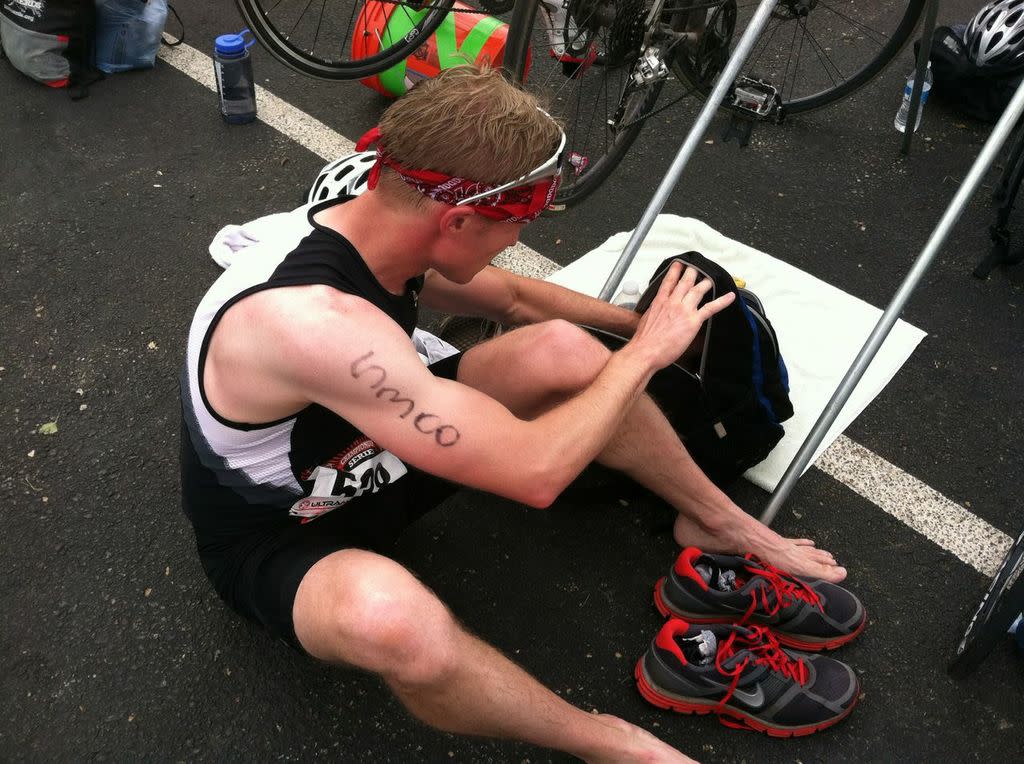 When I asked Justin if I could profile him, he simply replied, "I'm happy to help ... This means I'll actually have to train in earnest for this thing so your blog doesn't end with '... and then Justin sank to the bottom of the lake during his 1000m swim.'"
His training occurred over a six-month period in preparation for the June event. His day began at 5 a.m. as he departed Lawrence, allowing enough time to get his timing chip and transition/bike area set up. (I was gearing up to spray paint Mason jars ...)
Justin prepared for the long distance triathlon, a 1000-meter swim, 19-mile bike and 7-mile run; admittedly he feared the swimming portion.
"I was pretty anxious before the start with pre-race nerves. Once it started, they were not helped by me getting swam over by a person, then jostled underwater by another at the start. I panicked a little in the water but made my way through it," says Justin. "Open water swimming is so different than pool laps. I truly underestimated that."
Justin was more than pleased with his bike leg after running up the hill and out of the water. He told me that he averages about 15 miles per hour during the 19-mile trek. In hindsight though, aerodynamic handlebars would have made a difference.
"I felt great the whole way. I guess the most notable thing about this part is that the bike I raced with will need actual racing handlebars for the next race - sitting upright for 19 miles was tough to do, let alone pedal," he says.
Many first timers underestimate the transition periods of a triathlon, being a chance to recoup some energy and refocus. Justin quickly racked his bike and began the 7-mile run.
"I felt good at the start but by mile five I was just flat tired. My only goal at that point was to keep running-no walking-all the way to the finish," he says. 
With his wife Sarah and son Nate waiting for Justin at the finish line, he completed the entire race in 3 hours, 10 minutes and 43 seconds. Stoked by the accomplishment-and admirable swim-Justin was more than proud of his Tinman triumph.
"I'll definitely do another tri-this one was too much fun. I think I'd also consider a duathlon (no swimming) if only because that's a good way to not have to swim," he says with a laugh.
Katy Ibsen is a writer and editor living in Lawrence. When she's not blogging, writing or serving her community, she's embarking on the outdoor life among Kansas' picturesque landscape.