Big Brutus is big by the numbers. The 1850-B electric shovel is the largest in the world. With a working weight of about 11 million pounds and a boom that stretches up over the height of a 15-story building, the word "BIG" is somewhat of an understatement. It is more worthy of sentiments like those my children uttered as we turned into the parking lot: "Wow"and"Woah… That is REALLY BIG".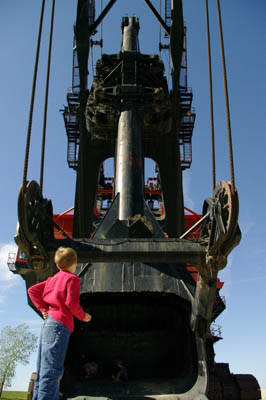 When Big Brutus was operational, the shovel required eight 500-horsepower motors to lift. It was able to hold about 3 railroad cars of material in each scoop. Brutus was an engineering feat at a time when bigger was better, and yet only required three people to operate.

Of all the Kansas oddities that have become tourist attractions, I think perhaps Big Brutus is my favorite. I guess that is because pictures don't do it justice. You cannot adequately understand the size of this thing before you are standing next to it, in it and on it.

Even as you drive close, it kind of looks like an overgrown toy from a child's sandbox, but there is nothing fake about Brutus. This shovel, which was constructed on site, ran 24 hours a day for 11 years between 1963 and 1974. It was a central figure in the mining heritage of southeast Kansas, representing jobs and economic prosperity for the area.

Of course, it was also a strip mine, which generally conjures up ugly images of barren landscape and resources tapped of their natural beauty. Brutus was shut down, not because it became obsolete, but because ecological regulations made it cost prohibitive. Kansas was the first state to mandate that the 11 square miles stripped by Brutus be restored to "equal or surpass" its original natural condition.

Here is another cool part of visiting Brutus. Today the area surrounding Brutus is a 15,000-acre wildlife preserve run by the Kansas Department of Wildlife, Parks and Tourism. You can camp there and the deep hole left by Brutus by which he stands watch is stocked with fish for recreation. The department stocks about 200 pits in the Mined Land Wildlife area. Brutus is the only remaining sign to a casual visitor that this region was ever anything more than a beautiful natural area.
And my little fans of "Bob the Builder" and "Mike Mulligan and His Steam Shovel" could not stop talking about it. For the last three days, I have heard things like:·  "I think Big Brutus weighs more than two T-Rexes"·  "Is Big Brutus bigger than our living room?"·  "Is Big Brutus bigger than our house?"·  "Maybe, we should live in Big Brutus."·  "Mom, do you think that cable is the biggest one in the world?"·  "Why did he get old?"·  "How did he get the name Brutus?"·  "What if Big Brutus was teensy-weensy. Would he be Teensy-Weensy Brutus?"·  "I bet they drove a truck into that shovel"·  "But I don't want to go. I want to stay a little longer.

"NOTE: You cannot actually climb to the top of the 150 foot boom. This WAS possible when I first visited Brutus some 15 years ago, BUT good sense and apparently insurance policies now prohibit it. I was honestly a little relieved about this fact, and the site is enjoyable without it.

Big Brutus is a great stop for a family. There is plenty of space to run – a nice detour or day-trip destination. You can also do primitive camping or bring an RV. It is a quiet area that's fun to visit where machines made a mark, but Mother Nature has had the last say.

Karen Ridder is a freelance writer living in Topeka. A former News Producer for KSNW-TV in Wichita, her work can also been seen in print publications including: Topeka Magazine, TK Magazine and the Topeka Capital-Journal. She has written for several national blogs and was recently recognized as one of the 2011 winners in the Annual Kansas Factual Story Contest. Karen has lived in Kansas for 15 years and married a native Wichitan. Together they are raising three little sunflower boys and a dog named George.