It all started with a conversation we were having while taking the dogs for a walk around the neighborhood. This was something we made it a point to do every single day to stay sane during our stay-at-home lifestyle change. However, it still wasn't enough to keep us both from feeling stressed and restless. "Hmm...that sounds like a lot of fun. Let's try and go next week maybe." I said nonchalantly. "Next week?" Dave asked with a laugh, "Let's do it this weekend. What else do we have to do?" A quick change in perspective was all it took. A spontaneous, socially distanced road trip to western Kansas ended up being a refreshing road trip of a lifetime.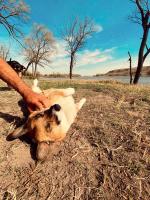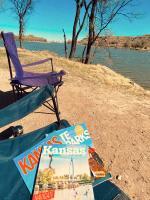 It was my suggestion to travel the nearly six hours from Kansas City to western Kansas. Western Kansas - what's out there? Many have asked, including myself for a number of years. But I vividly remember first laying my eyes on a photo of Monument Rocks near Oakley, KS years ago. Giant other-worldly chalk formations that will have you double-checking if you're still within state lines. This national landmark alone was worthy of a road trip for me. But, like many other trips I've dreamed of, I'd never found the time to take it. Then when Little Jerusalem Badlands State Park opened up nearby in October 2019, my anticipation grew and I knew I needed to go. And so, we loaded up the dogs and a U-Haul and went west.
We relied almost completely on Kansas travel guides for our road trip planning. Flipping from each of these vs. checking our cell phones made the road trip that much more Americana. For the most part we drove along the I-70 highway. Convenient as it is, I-70 is also a gold mine of roadside stops with historical byway connections. Sure there are plenty of gas station bathrooms, but why settle for average? Why not take the extra time to drive the Post Rock Scenic Byway to Lucas, Kansas, home to the #2 Best Bathroom in America? While we couldn't make it on this trip we did hop onto the Smoky Scenic Byway for the simple pleasures of tallgrass, windmills and wildflowers.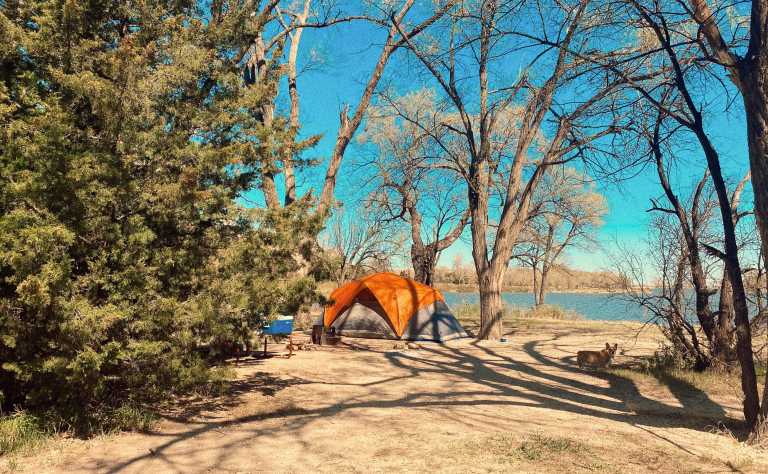 Still wanting to keep our distance from others, we looked online and found a quiet campsite at Historic Lake Scott State Park. To be honest, I really had no idea what to expect, but the farther we drove through the park the more breathtaking it got! I was in awe over the fact that there are bluffs like that in Kansas. Our spot was right on the water, which was perfect for morning coffee sessions. However, like amateurs, we chose the wrong side of the lake and ended up watching  people watch the beautiful Kansas sunset behind us. We couldn't help but laugh over this, however it was clear there was no bad view at Historic Lake Scott. We spent that Friday evening setting up our camp and flipping through our travel guides while planning our Saturday.
First up that morning was the one I'd been waiting for - Monument Rocks. I'm not exactly sure I have the words to describe how I felt when I first laid eyes upon the valleys of Niobrara chalk formations. It looked to me more like we were on a planet in a certain popular space franchise, not from my home state. But I can say it was a moment I still have clear in my mind weeks later. With so few people there, we ran around shortgrass prairie surrounding Monument Rocks like it was a playground.
After we finished oohing and awing, and of course pulling out the tripod to grab a picture of us under the iconic arch, we were on our way to our next stop.
Since many businesses were closed, we made sure to pack our own lunches from home. You'd be surprised how much "hiking" the prairie can wear you out! With the sun high in the sky and so few trees, it's a good idea to bring lots of water and snacks.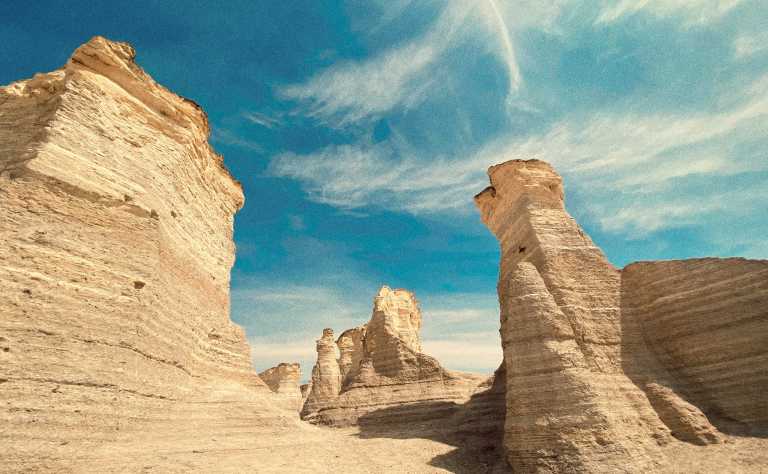 I have to give Dave credit, Smoky Valley Ranch was all his idea. This was another stop that took me by surprise. "I just feel like I NEED to see some bison on this tri- oh, wait! Bison!" I exclaimed as we pulled up on the stoic grazers. We slowed down to give them a nod and grab a quick photo and made our way to the entrance of the ranch. It's funny to me that the Kansas prairie has a reputation of being boring after seeing all of the peculiar plants that call Smoky Valley Ranch home. Yucca next to tallgrass and even a cactus here and there. With the quietness of the trail and the Smoky Valley River in the distance, it sort of felt like we could have been the only people in the world. For the dogs I imagine it was more like they were mini-explorers.
After a quick rest at the camp it was time to make our way to catch the golden hour at Little Jerusalem Badlands State Park. While guided tours around the park are currently closed, the lookout over the chalk pillars is an experience all on it's own. It was our luck we were the only people there that evening. The sun illuminated the chalk pillars down in the park, turning them into golden castles. We read something on a plaque near one of the lookouts that pointed out while oceans and mountains are beautiful, there is something special about seeing wide open space as far as the eye can see. That's something Kansas does really well.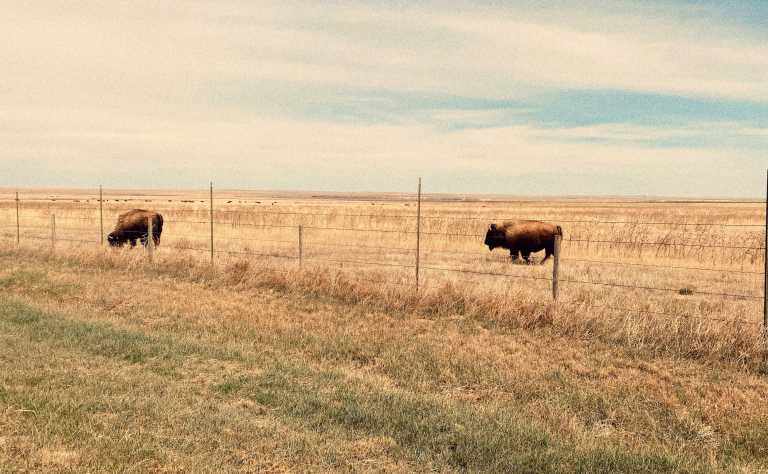 We enjoyed coffee by the lake again the next morning, and then loaded up the dogs to head for home. Still buzzing from all the sun and adventure we decided to hop off I-70 and take the Prairie Trail Scenic Byway to knock off one more bucket list item. Mushroom Rock State Park is a rural rarity tucked away in the Smoky Hills region of North Central, KS. The park is small, only about 5-acres, and getting to it requires some dirt road driving. But, if you are anywhere near Ellsworth, KS I say this odd gem is an absolute must. I felt like I'd found myself in a giant's garden walking around the enormous mushroom-like rocks. I learned the rocks are made from Dakota, the remains of beach sands and sediments from the Cretaceous Period millions of years ago. "I just did not imagine any of this was in Kansas…" Dave laughed, incredulously.
We returned home feeling revived from our weekend away. I felt a connection to Kansas I hadn't before, and with so many more parks and outdoor exploration to be had in this surprising state I can't wait to see what else is out there to uncover.