As I drove on a winding gravel road through lush pastures and hills on my way to the Prairie Lavender Festival near Bennington, I was looking forward to the day ahead as a time to relax and rejuvenate amongst my favorite fragrance after a hectic week. Little did I know it also would be a day to remember my past. [[endteaser]]
Walking towards the Festival, I glanced toward the tidy rows of lavender and saw a woman bend over, sweep her hand through a plant, and smell her palm. Her gesture reminded me of my mother, an avid gardener. And then it occurred to me...something I hadn't thought of for years...that sweet fragrance I always smelled when I opened her dresser drawer was lavender! My enjoyable day at the Prairie Lavender Farm made me realize I'm more like my mother than I think. I never have like to pull weeds, but I do have a small flower garden. And I have to admit, lavender is my favorite scent for potpourri, lotion, and candles.
Not knowing much about lavender, I was anxious to see a working lavender farm - one of only six in the state - and learn more about this fragrant flower that brings me so much aromatic pleasure. I had no idea of the amount of work it takes to get a mere ounce of lavender oil until I took the guided farm tour. Cuttings must be at exactly the right time, buds are pulled off (once done here by hand but now by machine), and the oil is extracted by means of a still, of all things.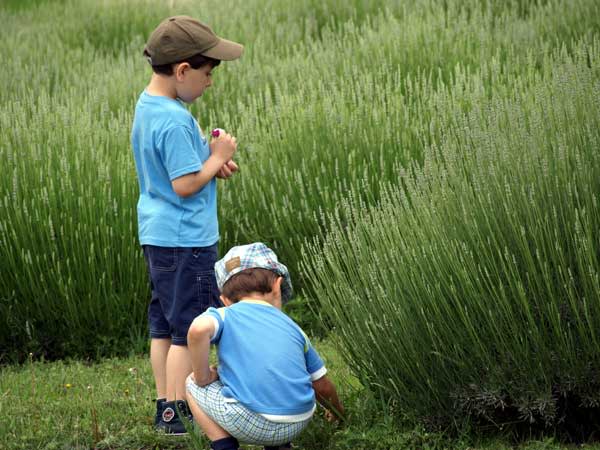 At least the lavender plants themselves apparently don't need much care. Simply choose the right variety (which, of course, they sold at the Festival), plant it in full sun in soil where there's good drainage, water it a bit until it's established, and then let it be until you cut off the blooms...now that sounds like my kind of gardening! I immediately bought one to take home to plant, thinking how Mom would have purchased half a dozen.
Once I get my first cutting, I plan to do more than place them in a vase, thanks to one of several craft demonstrations I watched at the Festival. Prairie Lavender Farm owner Mike Neustrom showed us the steps to making a fresh wreath he said will keep our houses smelling of lavender for three years! A bit impatient (I get that from my mother, too), I paid the small price to cut my own handful of lavender which I bundled with ribbon and hung on my bathroom wall as soon as I got home.
After hearing fellow festival attendees raving about the lavender blueberry cookies and lavender ice cream, I headed toward the food stand. Would I savor the taste of lavender in my food even though it's a member of the most popular herb family, mint? Sipping ice cold lavender lemonade, I found it to be sweet but with the delightful "twist" of a unique floral flavor enhancing the lemon. The turkey wrap seasoned with a lavender cream cheese spread was so delicious I might just have to add some lavender in my own kitchen endeavors, although Mike warned to start by using only small amounts in recipes.
Taking a leisurely stroll through the rows of blue-violet lavender plants swaying in the breeze, I breathed in their aromatic smell as I listened to musicians singing and playing guitar. I chatted with plein air artists while watching them bring to life on canvas the beautiful scenes before me. My worries dissipated and I was rejuvenated. What a respite from the outside world!
Be sure to put the Prairie Lavender Festival on your June calendar next summer. It's a wonderful way to spend time with Mother Nature and some good folks who love lavender.
Cecilia Harris is a professional freelance writer from Abilene who enjoys discovering fascinating attractions, events and people that reflect the arts, culture and heritage found in Kansas. She has been a longtime regular contributor to KANSAS! magazine and also has written for such publications as Midwest Living, Sunflower Living, Kansas Heritage and The Greyhound Review to inspire others to explore and appreciate her home state. She also has authored two books, "Historic Homes of Abilene" and "Abilene's Carousel."