If you're looking for something different to do on a Friday night, there's a free event that easily ranks at the top of the charts. Every week year-round the Emma Chase Café invites musicians of all ages and levels to bring their acoustic instruments to Cottonwood Falls for a jam session. Music lovers like me tune in for a night of old-time bluegrass, folk, country, gospel and rock 'n' roll in a relaxed, friendly atmosphere beginning at 7:30 pm every Friday."[[endteaser]]"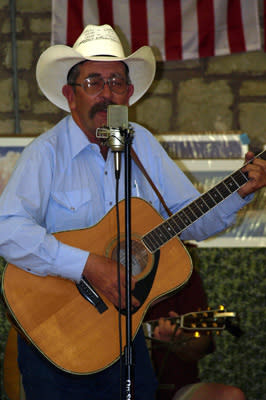 I was looking forward to sitting in my lawn chair under the stars on the bricked street in front of the café, where the sounds of guitars, banjos and fiddles would soothe my soul in the cool of the evening. Unfortunately, it was a steamy 104 degrees that night, so the jam session moved indoors as it does whenever the weather is inhospitable. Fortunately, just a block up the street from the café is the Emma Chase Music Hall, that houses Prairie PastTimes, a store front for 30 talented Flint Hills craftspeople. Their handmade wares, everything from quilts to blown glass to ironwork, occupy the perimeter of the shop, leaving the center space open for jam sessions and other music events. Before the night was over, Hubby and I became the proud owners of a hand-crafted wooden cross.
Our evening began at the café, where we ordered the Friday night special – a succulent fried catfish fillet dinner. After a slice of peach MarCon pie and the purchase of a jar of Hubby's favorite sand plum jelly, we strode to the music hall. On the stage were 16 musicians, five of which café owner Sue Smith said had never performed here before; depending on the weather, a typical night might bring anywhere from four to 30 musicians from across the globe. "We never know how many will show up," Sue says. "It's the most amazing thing and has a life of its own."
One of the performers would step to the microphone, inform the others what key the song was in, and start to sing a favorite tune. The others, ranging in age from youngsters just learning to play to seasoned senior citizens and wearing everything from cowboy hats to tennis shoes, would join in on guitar, fiddle, mandolin, base, harmonica, piano or juice harp, as if they had been practicing together for months. The music included fun songs for kids, Willie Nelson tunes, original compositions, and favorite hymns and patriotic songs that invited audience participation.The jam sessions, which began in 1999, were voted one of the 8 Wonders of Kansas Customs by the Kansas Sampler Foundation.
What is one of your favorite Kansas music events?
Cecilia Harris is a professional freelance writer from Abilene who enjoys discovering fascinating attractions, events and people that reflect the arts, culture and heritage found in Kansas. She has been a longtime regular contributor to KANSAS! magazine and also has written for such publications as Midwest Living, Sunflower Living, Kansas Heritage and The Greyhound Review to inspire others to explore and appreciate her home state. She also has authored two books, "Historic Homes of Abilene" and "Abilene's Carousel."