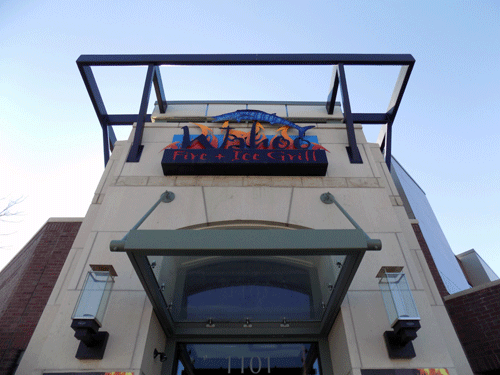 Bison is a Kansas staple, and Kansas restaurants across the state are cooking up this lean red meat for signature burgers. Find a bison burger on the menu at these four restaurants -- from the simple to the extravagantly topped and from the locally-sourced to the newest recipes.
WAHOO FIRE + ICE GRILL
Manhattan, Kansas
Austin Schuldt and Darin Eible opened Wahoo Fire + Ice Grill in June 2012. The menu features classic American cuisine influenced by Chef Eible's 20 years of experience, including a simple bison burger with a California feel.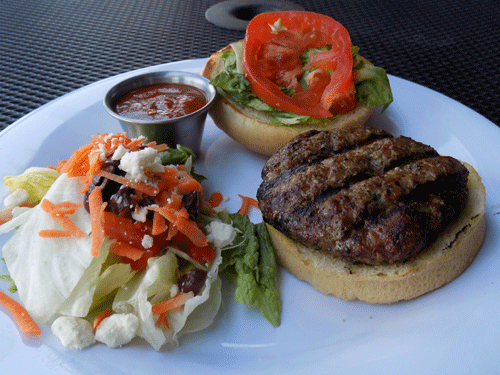 The plain, 6-ounce blended local bison burger is topped with avocado, lettuce and tomato. Ketchup and mustard are optional but unnecessary as the simple recipe is light and flavorful with the fresh, crisp crunch of the fruits and vegetables topping the burger. Ordered with a salad dressed in sun-dried tomato vinaigrette, a quick stop at Wahoo Fire + Ice Grill will fulfill your burger craving in Aggieville.
BLANC BURGERS + BOTTLES
Leawood, Kansas
Near the state line between Kansas and Missouri sits Blanc Burgers + Bottles, a gourmet burger and soda shop featuring a long list of specialty bun-ed concoctions, glass-bottled sodas and local beers on tap.
After a long day driving, I sat down at the bar and ordered the bison burger, and I've never had such an interesting and amazing flavor combination on a burger before.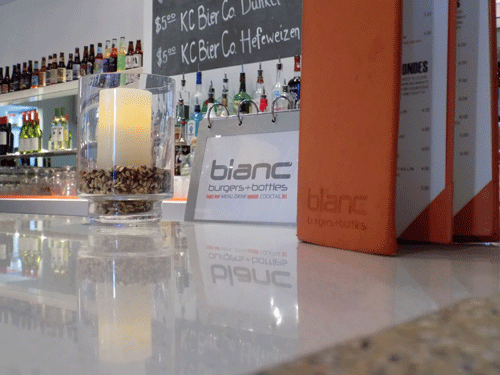 An over-easy fried egg, spicy pepperjack cheese, a tangy and tasty pappadew jam, mayo, red onions and butter lettuce adorn the flavorful all-bison patty on its salt and pepper brioche bun. The bison burger isn't served with a side, but an order of fries might be too much to handle after the amazing flavor combination featured in this burger.
Owner Ernesto Peralta said his second most popular burger was the bison burger -- ranking just under the traditional beef burger his patrons love.
PUBLIC AT THE BRICKYARD
Wichita, Kansas
What better name to call a plate of Kansas-sourced bison and beef blended burgers than "Prairie Sliders?"
At Public at the Brickyard -- my favorite restaurant and bar in Wichita -- bison and beef patties are seasoned with espresso and porcini mushrooms and topped with sharp cheddar cheese, sweet onion marmalade and mustard aioli on buns from Delano Old Town Bakery for a service of two sliders created from locally-sourced ingredients.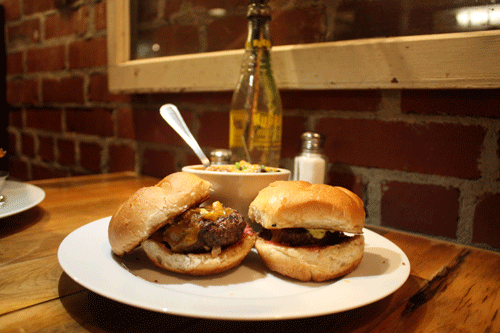 Public's Prairie Sliders also come with your choice of side: fresh-cut fries (sweet or golden), haricot vert with pine nuts, black beans and rice, seasonal fruit, potato salad or house-made kettle chips. 

If you're lucky, they'll also have the bison chili on the specials menu!
MERCHANTS PUB & PLATE
Lawrence, Kansas

Last, but not least, and certainly my favorite bite: An old bank building on Massachusetts Stree in Lawrence, Kansas, houses Merchants Pub & Plate. They showed off their newest bison burger recipe while I was in town.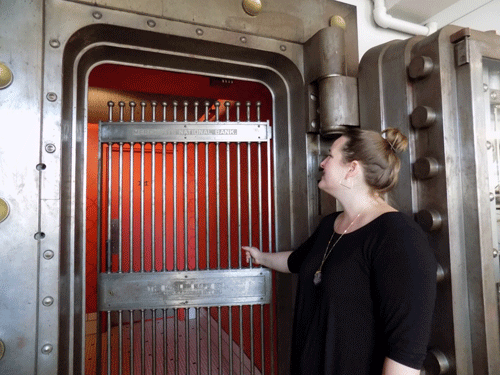 Cottonwood River aged cheddar, locally-sourced arugula and (the largest) tomato (ever), roasted garlic and shallot puree and dill mustard aioli top the ground local bison patty sandwiched in a lightly toasted bun for the first time at Merchants. Served with a side of fries or daily featured vegetables you won't be able to finish after polishing off the lavish and delicious recipe created by Owner and Chef TK Peterson.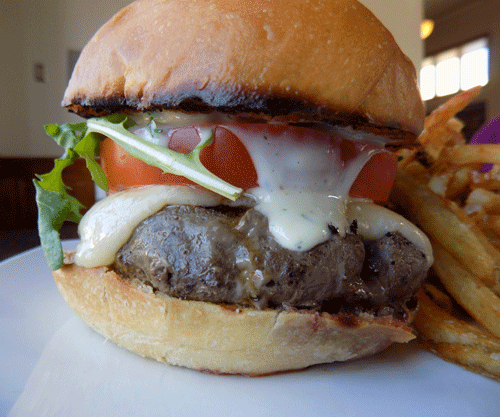 Order one of 30 local beers on tap -- I recommend the Free State Ad Astra -- to go with your burger and fries and ask for the table by the window.

It's the best seat in the house.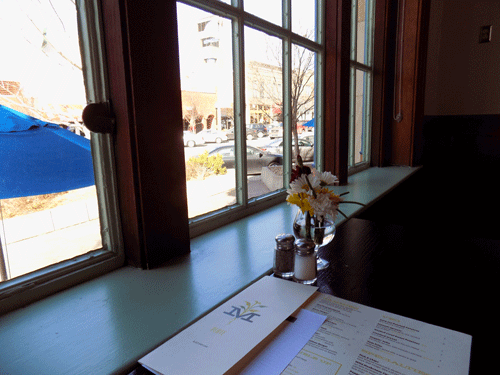 Traveling soon? Stop at these four locations for a road trip full of flavor! Can't make it out? Get ground bison at a number of local grocers across the state, and grill up your own at home!