The party never stops in Kansas, with year-round celebrations filling travelers' cravings for good food, great entertainment and the best local hospitality. A special addition to the calendar this year: the 150th anniversary of the iconic Chisholm Trail, with celebrations planned across the state.
Liberal, February 25–28
Wearing aprons and head scarves, skillet-toting women dash through a 415-yard course, trying to beat the fastest Pancake Race time in Olney, England, on Shrove Tuesday. A parade and pancake-eating contest take place in the days leading up to the main event.
Yoder, March 1–31 (except Sundays)
Shops in this quaint Amish settlement display more than 50 quilts (all for sale) hand-stitched by ladies from Yoder and other communities across the country.
Wings 'N' Wetlands Birding Festival
Great Bend, April 28–29
During the peak of spring shorebird migration, take guided field trips to Cheyenne Bottoms and Quivira National Wildlife Refuge to spot some of the region's 300-plus bird species. Advance online registration required.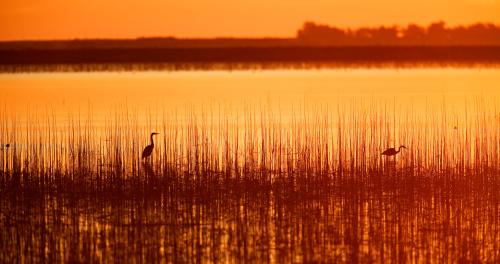 Credit: Per Breiehagen
Winfield, May 6–7
Discover the Sunflower State's treasures when 150 communities showcase glimpses of their attractions in Island Park. Also, meet Kansas musicians and try local dishes.
Wichita, June 2–10
This party in and around the Arkansas River begins with a sundown parade and fireworks on June 2. The event continues with boat tours and big-name concerts.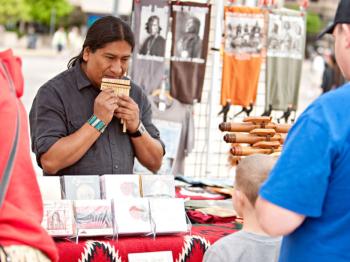 Credit: Jason Lindsey
Atchison, July 14–15
The aviatrix's hometown celebration soars with an aerobatic show and fireworks. Country stars perform at opening night's LakeFest.
Paola, August 25–26
Blues and country bands rock the stage at Paola Park Square. Fest favorites include a barbecue cook-off, arts and crafts, rides, and food vendors.
Hutchinson, September 8–17
The state fair corrals a crowd with its blue-ribbon livestock, a butter sculpture, carnival rides, deep-fried food and grandstand music.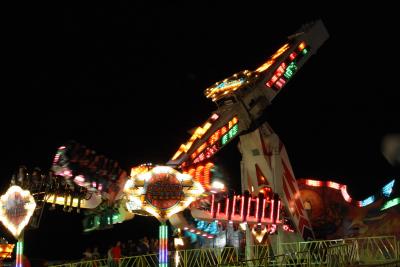 Courtesy of KDWPT
Winfield, September 13–17
Acoustic-music aficionados hear more than 30 performers on four stages. Sit in on the national flat pick guitar and mandolin champion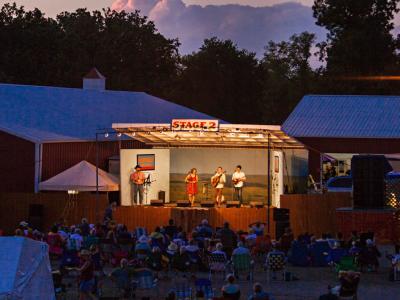 Credit: Ryan Donnell
Lindsborg, October 13–14
Lindsborg honors its Swedish pioneers at this biennial fest with costumed folk dancing, a parade, arts and crafts exhibitors, and Swedish cooking demonstrations.
Fort Scott, December 1–2
On guided tours, lanterns light the way through Fort Scott National Historic Site, where 100 costumed reenactors portray scenes of frontier life.
150 Candles for the Chisholm Trail
Near Dodge City's historical Front Street, the inscription below a cowboy statue reads, "On the ashes of my campground, this city is built." The same could be said of Wichita, Abilene, Ellsworth, Wellington, Newton and Caldwell—all raucous Kansas cow towns that took their turn as the final stop of the legendary Chisholm Trail.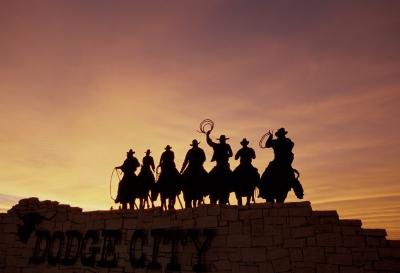 Credit: John Noltner
In 2017, those communities and others celebrate the 150th anniversary of the route along which 5 million longhorns lumbered from Texas to Kansas between 1867 and 1885. The Chisholm Trail: Driving the American West exhibition launches its statewide journey January 12–March 7 at the Symphony in the Flint Hills Gallery in Cottonwood Falls and makes stops in Wichita, Abilene, Caldwell, North Newton and other communities. Abilene also celebrates during its Trails, Rails and Tales event with parades, dances and concerts (September 1–3). While there, check out the pistol Wild Bill Hickok carried when he was marshal on a display at Dickinson County Heritage Center.
Check out more Kansas events at TravelKS.com/events or in the Calendar feature of the 2017 Kansas Official Travel Guide.